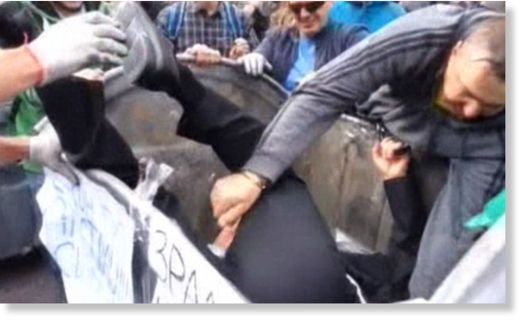 A group of demonstrators, including 'Right Sector' neo-nazis, outside the Ukrainian parliament in Kiev grabbed Ukrainian MP Vitaly Zhuravsky and threw him into a dumpster on Tuesday. Zhuravsky is a former member of former President Viktor Yanukovich's party. After being thrown in, Zhuravsky was held down and various liquids were poured over him. A tyre was also added into the unsightly mix.
The protestors were demanding
that an 'anti-elite' law be passed in the Ukrainian parliament that would see any MP that served under former President Yanukovich, who was ousted in a US-sponsored coup in April, banned from holding office for 10 years and forced to return any gifts they received while serving in Yanukovich's administration.
The 'Right Sector' group is made up of ultra-right wing nationalist and former military personnel who have acted as mercenaries for Ukrainian oligarchs aligned with the US and EU.