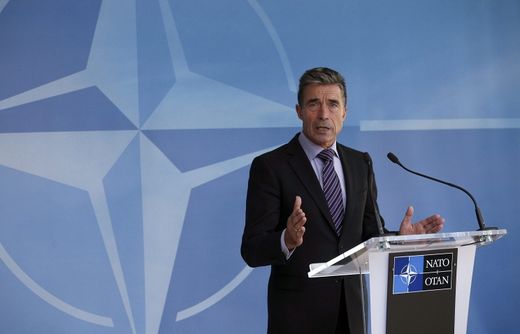 NATO is establishing four trust funds to finance the modernization of the Ukrainian armed forces, NATO Secretary General Anders Fogh Rasmussen said on Friday.
"We are establishing four trust funds to finance concrete initiatives within four areas; logistics, command and control, cyber defence, and help to military personnel, including wounded personnel," Rasmussen said.
He also said that some NATO member-states "announced concrete financial contributions to these trust funds and it was signalled that more announcements may come forward at the summit in Wales next week."
"The whole purpose of these trust funds is to finance activities that can assist Ukraine in reforming and modernizing the armed forces with a view to making them stronger to defend Ukraine," Rasmussen said.
Earlier on Friday,
Ukrainian Prime Minister Arseniy Yatsenyuk said that his government
would seek the cancellation of Ukraine's non-aligned status
and resumption of the country's course for NATO membership.
Rasmussen also accused Russia of being involved in the Ukrainian conflict.
Accusations against Russia voiced repeteadly
Accusations against Russia of invading Ukraine are voiced repeatedly, but
nobody has presented facts
, Russian Foreign Minister Sergei Lavrov said on Friday after the meeting with his Iranian counterpart Mohammad Javad Zarif.
"It is not the first time when accusations addressed to us are heard. Since the beginning of the crisis, we have been accused, that we are to blame for everything".
"No facts have been presented to us either about 'invasion' or other issues," Lavrov said. "It seems to me that concealing of facts is characteristic of the United States and some European countries over what is happening in Ukraine."
There is not even one fact to confirm all the statements
, the Russian minister said, adding that on every occasion the Russian side asked American and Western European colleagues to substantiate such accusations.