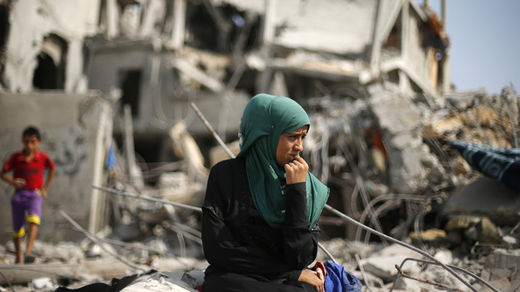 Professor and political activist Cornel West declared President Barack Obama a "war criminal," arguing that his support of Israel and his drone policy make him complicit in the deaths of innocent people.
The controversial activist made the comments at a pro-Palestinian rally in Washington, DC on Saturday, according to
Talking Points Memo
. West began his speech by pointing to the deteriorating situation in Gaza, where more than 1,800 Palestinians and more than 60 Israelis have been killed, criticizing Israel's offensive in the region in front of a "Free Palestine" banner.
His comments regarding President Obama begin at around the three-minute mark in the video below.
"There's an intimate connection between mendacity and criminality, between lies and crimes against humanity,"
West said. "
And what I want to say to my Black brother in the White House: Barack Obama is a war criminal - not because he's Black, or half-African and white - but because his drones have killed 233 innocent children, and because he facilitates the killing of innocent Palestinians in Gaza and the West Bank, and it would be true anywhere else."
Before criticizing Obama, West also said that Israeli Prime Minister Benjamin Netanyahu is in the same category as his American counterpart, and suggested that anyone who "chooses occupation and annihilation is a war criminal."
"Benjamin Netanyahu is a war criminal - not because he's Jewish, but because he has chosen to promote occupation and annihilation," West claimed. "This is a human affair."
Although the prominent activist noted that Saturday's rally was "anti-Jewish-hatred," he said the cause of the Palestinians needs promotion because their "humanity is rendered invisible in the corporate media."
"I would be here if there were a Palestinian occupation of Jewish brothers and sisters, because it's wrong, it's unjust and we stand not with the level of skin pigmentation or ethnic identity; this is ethical, this is spiritual with political consequences," and that's why "resistance under occupation" is justified, he said.
Notably, West has called Obama a war criminal before. In May 2013, he told
the Guardian
that although he supported Obama during his initial bid for the presidency, he became disillusioned after seeing the policies put in place both domestically and overseas.
"He's just too tied to Wall Street," West said. "And at this point he is a war criminal. You can't meet every Tuesday with a killer list and continually have drones drop bombs. You can do that once or twice and say: 'I shouldn't have done that, I've got to stop.' But when you do it month in, month out, year in, year out - that's a pattern of behavior."
"I think there is a chance of a snowball in hell that he will ever be tried, but I think he should be tried and I said the same about George Bush. These are war crimes. We suffer in this age from an indifference toward criminality and a callousness to catastrophe when it comes to poor and working people."