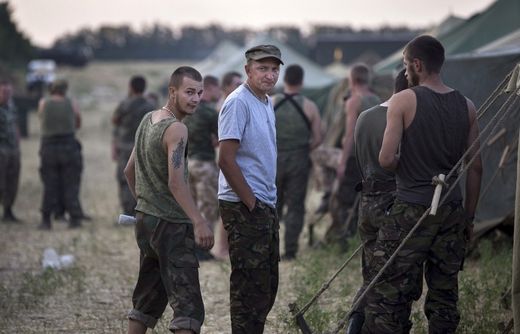 American journalists accredited in Russia declined the invitation of Russia's Ministry of Foreign Affairs to visit the Russian-Ukrainian border and meet the Ukrainian servicemen that passed to the territory of Russia. Deputy Head of the ministry's Department of Information and Press Maria Zakharova wrote this on her Facebook page on Wednesday.
"This story happened the day before yesterday... In the morning, news agencies reported that over 400 Ukrainian servicemen addressed Russian border guards asking for asylum. Understanding the importance for journalists, especially the foreign ones, of the opportunity to communicate with the representatives of Ukrainian armed forces, to find out straight from the source about the real combat situation, about the motivation of Ukrainian soldiers, the real causes of their act, we decided on the same day to invite a group of foreign correspondents to the Rostov region. Luckily, a plane of Russia's Defense Ministry was heading there and was able to take 30 to 40 journalists. We started to call everyone immediately. About forty people gathered within an hour," Zakharova wrote.
However, there were hardly any reporters representing top US-based media outlets among those who wanted to get to the Russian-Ukrainian border.
"Aside from Bloomberg agency journalists, there was none from American media," Zakharova wrote. She added that the invitation to meet with Ukrainian servicemen that passed to the Russian territory was
declined by representatives of leading US media: CNN, The New York Times, The Washington Post, The Christian Science Monitor.
"Then on what are based the stories of these journalists, if they refuse to meet with the sources?!" "The funniest behavior was shown by Reuters: they signed up, set out to the airport, halfway changed their minds and didn't fly," Zakharova said.
"We are reproached for having little communication with western media, and this is supposed to be the reason for Russia's information blockade. But the fact remains a fact: we speak, and
they don't want to listen, or they are not allowed
," the Foreign Ministry's spokesperson stressed.
The Ukrainian military servicemen, who laid down arms and crossed into Russia, were accommodated in a tent camp that was set up for them near the Gukovo border checkpoint in Russia's Rostov Region.
The soldiers expressed surprise over being treated well on the Russian territory as, according to them, news information they gathered earlier from Kiev media was in sharp contrast to the reality they saw.
"We could have a bath, received new clothes. We are very grateful," one of them told Russian LifeNews online television channel.
According to the Ukrainian soldier, before they crossed the border they had been told that Russia was an "aggressor country" engaged in combat operations against them, but now they found out that it was not true, he added.
Pro-Kiev troops and local militias in Donetsk and Lugansk regions are involved in fierce clashes as the Ukrainian armed forces are conducting a military operation to regain control over the breakaway regions, which on May 11 proclaimed their independence at local referendums.
During the military operation, Kiev has used armored vehicles, heavy artillery and attack aviation. Many buildings have been destroyed and tens of thousands of people have had to flee Ukraine's embattled Southeast.