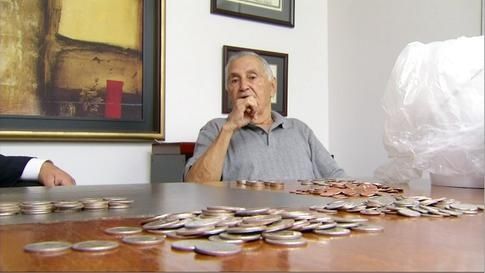 "
What a bunch of a-holes.
Andres Carrasco filed a lawsuit in 2012 against Adriana's Insurance Service, Inc. alleging he was physically assaulted by one of the company's employees.
After agreeing to a settlement with Andres Carrasco in June, Adriana's Insurance decided to deliver the funds in the form of a check -- and buckets and buckets of quarters, dimes, nickels and pennies.
The guy is a senior citizen and recently had a hernia operation and is unable to lift the buckets.
Apparently eight Adriana's Insurance Service employees arrived at Carrasco's lawyers office and just started dropping off buckets of loose change that amounted to around $21,000.
"I am disappointed by the way Adriana's treats their customers and the elderly," Carrasco said in the statement. "We might be poor, but we are people too."
Unsurprisingly, when contacted by the press, Adriana's Insurance Service was unavailable for comment.
Not really sure that they could say anything to defend such a cruel and childish action anyway.
.