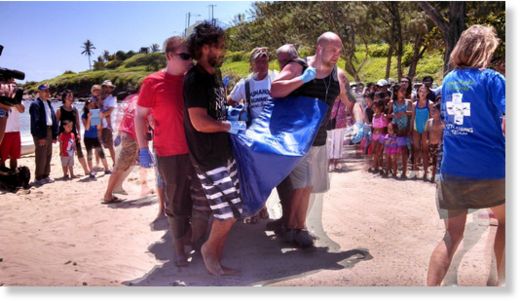 A necropsy is being performed on a whale that died off Kailua Beach.
The melon-headed whale was brought to shore Friday morning after it was spotted Thursday.
Initially, state officials reported two whales, swimming in circles in waters off Kailua beach.
Experts thought there were two whales because several fins were sticking out of the water, but on Friday morning, they discovered it was only one melon-headed whale in distress.
"So if you were looking from far away, it was the fin and the fluke and it looked like two dorsal fins, but it was just the whale on its side," said David Schofield with the National Oceanic and Atmospheric Administration.
The 9-foot-long adult female whale died about 30 minutes before it was taken to shore. It weight about 500 pounds.
"Even though they're common to these waters, how uncommon is it to have it so close to shore?" KHON2 asked.
"These are deeper water animals, so the point you're making is a good one, is that when they come in shore,
that tells us there's something wrong
," Schofield said.
Officials believe the whale had been swimming on its side for at least 16 hours and was located about 300 yards offshore.
By the time experts got to it Friday morning, the whale had died.
State and city teams towed the whale in using a jet ski.
"They towed it in within half an hour," said beachgoer Stella Lockwood. "Everything was done and it was preserved and it didn't smell. We didn't see any sharks."
Once on shore, the whale was lifted onto the bed of a truck.
The whale had scrapes on it, but officials believe it was injured from the shallow reef.
Shortly after they removed the whale, the state lifted the public safety hazard warning for Kailua Bay. Some beachgoers didn't wait and jumped in before the cancellation.
"When I saw the whale, I was sad. When you see a whale, it's a spiritual thing," one beachgoer said.
Experts believe the whale's social groups pass the area on a regular basis. This is the third melon-headed whale in recent years that has been stranded in Kailua Bay.
"They can die of old age," Schofield said. "They have a certain type of disease, a virus, a bacterial infection. It could be we sometimes find that whales will swallow things they shouldn't."
Right now experts are looking at all possible reasons for its death, including the possibility of acoustic trauma from RIMPAC exercises.
The carcass was taken to Koolau Radiology at Queen's Medical Center for a CT scan.