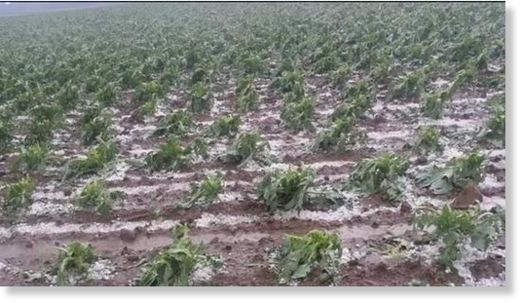 It was a harsh wakeup call. People around our area were woken up by a strong thunderstorm. In some places,
that storm dropped enough hail to cover the ground like snow.
In addition to the hail, the storm brought heavy rain, lots of lightning and strong winds. Places in eastern Ontario County were among the hardest hit by the weather.
In his eighty years, Nicholas Legott had never seen a hailstorm in Geneva like he saw Thursday morning. He certainly did not expect to be shoveling hail out of his driveway.
Legott said, "
The force of the hail hitting the house. It wasn't just that. It was coming down in buckets. It was unbelievable."
Just Wednesday, Legott and his family were ecstatic about how well their new garden of organic tomatoes and peppers were doing.
Now, they are a shredded, icy mess.
Vegetable growers, like Eric Hansen, of Hansen Farms in Stanley, suffered a similar fate, but on a larger scale. Monday's heavy rains left behind mud that made it tough to get into the fields. On Thursday, the many acres of pumpkins and a good chunk of his cabbage crop were torn apart by the hail.
At one point, his hail covered fields looked like an icy winter wonderland in the heart of summer.
Now that they are torn apart, not only will they be hard to salvage, they are also now prone to disease.
Hansen said, "Anytime you expose this tissue, you're open to lots of diseases. The plants will survive. The concern is if it will ever yield any marketable head of cabbage."
Hansen said insurance adjusters will be out soon to assess the damage and see if those qualified farms hit the hardest can file a claim on their crop.