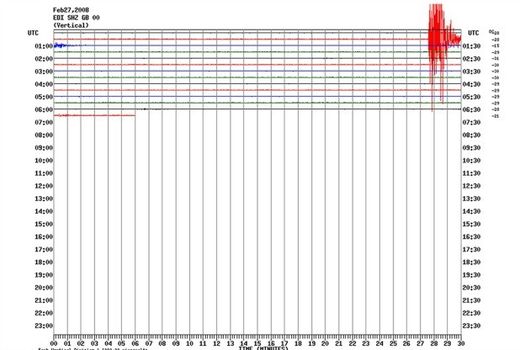 An increasing number of earthquakes have been recorded in the UK, official figures show.
The highest level of detections in the last decade is set to be registered for 2014, with 100 earthquakes already recorded in the first three months of the year and 149 in total up until July.
This compares to 154 throughout 2013, 64 in 2006 and 111 reported in 2005, 2007 and 2011.
One small tremor, which centred on Jersey and Guernsey in the Channel Islands earlier this month. The quake had a magnitude measuring 4.2, making it the largest in the region for almost 90 years and the tremors were felt all along the south coast of England. The tremor was reported to have registered on British Geological Survey monitoring station equipment in Exeter, Devon.
Environmental activists fear the Government's desire to exploit shale gas reserves in rocks beneath the UK will cause small earthquakes. But ministers believe the technique used to tap into the potential supplies - known as fracking - will bring down energy bills and create thousands of jobs.
The UK earthquake data covering June 2004 to July 2014 was released to Parliament in response to a written question from Labour's Tom Greatrex.
Shadow energy minister Mr Greatrex said: "It is vital that any shale gas extraction in the UK can only happen in the context of robust regulation and comprehensive inspection - seismic monitoring must be a key part of that. "Labour have repeatedly pressed the Tory-led Government for tighter regulation. "Belatedly, they have agreed to institute a traffic light system that cuts off any activity if tremors above 0.5 are detected."
Most of the 1,170 earthquakes recorded between 2004 and 2014 can be regarded as microearthquakes as they registered below 3.0 on the Richter scale and are generally not felt by people. There were 1,099 tremors below 3.0, a further 61 considered minor and therefore felt by many people but causing no damage, nine that were light and can cause minor damage to objects and one which was moderate. The most powerful tremor was registered as 5.2 in February 2008.
Homes were shaken across large parts of the country when the earthquake hit. The British Geological Survey (BGS) reported the epicentre was in Market Rasen in Lincolnshire. Business Minister Greg Clark, who released the data, told Mr Greatrex in his written response: "The (UK's national seismic) network will detect almost all earthquakes of local magnitude two and above in the UK.
"The network does detect events with magnitude less than two, but some will not be recorded as the ability to detect an event reliably diminishes with increasing distance from the closest seismometer stations. "The BGS network detects around 100 earthquakes in the UK annually."