The McDonald's cheeseburger will have its day in court.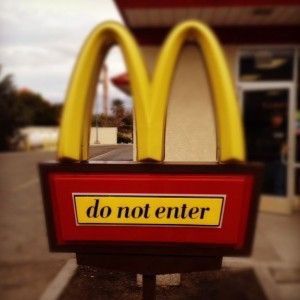 Russia's consumer protection agency has filed a claim accusing the restaurant chain of violating government nutritional and safety codes in a number of its burger and ice cream products, a Moscow court announced Friday.
The suit could temporarily ban the production and sale of the chain's ice cream, milkshakes, cheeseburgers, and Filet-o-Fish and chicken sandwiches, said Yekaterina Korotova, a spokeswoman for Moscow's Tverskoi District Court, where the case will be heard.
"
We have identified violations which put the product quality and safety of the entire McDonald's chain in doubt
," Anna Popova, the head of Rospotrebnadzor, Russia's consumer protection agency, said in statements reported by the Interfax news agency.
Food imports often fall victim to geopolitical tensions in Russia, which has banned cheese, wines and other regional delicacies from its post-Soviet neighbors when the mood has soured. Starting Monday, for example, Russia will ban imports of milk and dairy products from Ukraine, where pro-Russian separatists have declared independence in the country's east, the RIA Novosti news agency reported on Friday.
While McDonald's products are made in Russia, the company's American identity is lost on few politicians here. When the chain shut down its three restaurants in Crimea after Russia's annexation of the peninsula in March, some Russian lawmakers
called for McDonald's to be banned
throughout the country, where there are more than 400 restaurants, according to the company's Russian website.
In the past, the discussion over diet has even waxed philosophical. In 2012, the country's chief sanitary officer, Gennady Onishchenko, used the
disputed discovery of a worm
in a McDonald's lunch to deliver a sweeping rejection of all burgers.
"This is not our food," he said at the time.
Rospotrebnadzor's complaints, however, were more concrete. The agency claimed that McDonald's
had misrepresented the nutritional values of its hamburgers and ice cream products, and said that in one restaurant inspected in May, traces of E. coli had been detected.
A McDonald's representative, Nina Prasolova, said in an email that the company had not received an official complaint from either the court or Rospotrebnadzor, and that the nutritional information of its food was "based on the methodology approved by the Food Institute of the Russian Federation." Ms. Prasolova did not return emails asking about the sanitary inspections.
Ms. Korotova would not comment on whether the court could temporarily close McDonald's restaurants in the country, citing only Rospotrebnadzor's demand for the court to "halt McDonald's illegal activity." A hearing is planned for Aug. 13.