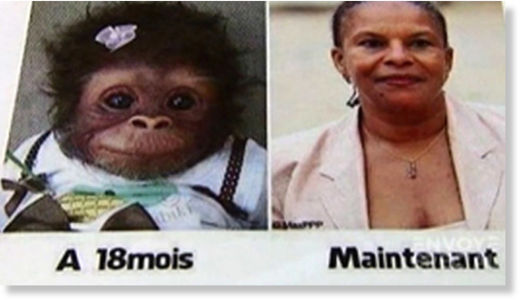 An ex- candidate of France's Front National will spend nine months behind the bars after she posted a photo on Facebook comparing the country's Justice Minister to a monkey. The sentence exceeded the prosecutor's request for a four-month jail term.
The court in the French overseas city of Cayenne, capital of French Guiana, gave the author of the post Anne-Sophie Leclere a nine month prison sentence and a €5,000 fine.
The former candidate didn't appeared in the court, and later said she would appeal the verdict.
The right-wing National Front was also fined €30,000 as Leclere was the party candidate in this year's local elections in the region of Ardennes, northern France. However, she was excluded by the organization in December 2013 after the incident.
The photo montage with the picture of a baby monkey, with a caption underneath reading "At 18 months", and the photo of France's Justice Minister Christiane Taubira with words "Now" appeared on the Facebook page of Leclere on August 31.
She later deleted the controversial photo. However, the photo montage was revealed by the France 2 TV channel in October.
During a France 2 documentary "
The new faces of the National Front?
" Leclere was confronted with the image. She defended her post, saying that Taubira was a "wild animal."
"Honestly, she's a wild animal, coming on TV with that devil's smile," she said, "I'd prefer to see her swinging from a tree than in government," she added.
She also denied that the photo montage was racist. "I have friends who are black," she said. "I did not make racist remarks even though my comments on television were clumsy."
According to the ex-National front activist, the photo was merely "a joke." "The photo was posted on my Facebook page and I took it off a few days later. I was not the creator of this photograph." The case was brought by French Guiana's Walwari political party founded by Christiane Taubira in autumn 2013.
In the meantime, the country's National Front slammed the court sentence as "revolting" and "excessive."Party officials said they would make an appeal.
"This must be the one of the harshest sentences handed out in long time for freedom of speech," the National Front said in a statement.