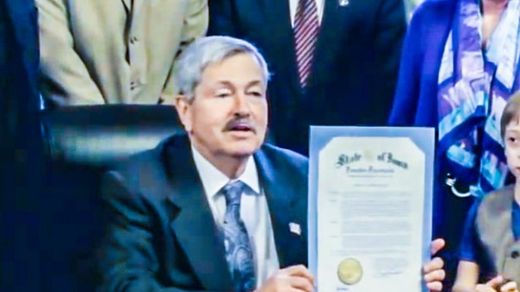 An official proclamation signed by Gov. Terry Branstad (R-IA) has called on Iowans to pray and repent on a daily basis.
In a public ceremony earlier this year, Branstad signed the proclamation ahead of a
July 14 revival
at the Iowa Capitol:
NOW, THEREFORE, I, Terry E Branstad, as Governor of the State of Iowa, do hereby invite all Iowans who choose to join in the thoughtful prayer and humble repentance according to II Chronicles 7:14 in favor of our state and nation to come together on July 14, 2014.
On Tuesday, Branstad was also one of the speakers at the 11-hour Christian event.
The governor explained that his proclamation "was very much in line with the great tradition" that started with President George Washington.
Branstad thanked the attendees for encouraging those who served in public office to "follow God's will."
Iowa Lt. Gov. Kim Reynold (R) also spoke, praising the crowd for "standing up for our rights, and for individual liberties."
The "If 7:14″ campaign sponsored by Iowa's Family Leader
asks everyone
to set their cell phones to remind them to pray and repent each day at 7:14 a.m.
Watch the video below from The Family Leader, broadcast July 15, 2014.
(h/t:
Liberalland
)