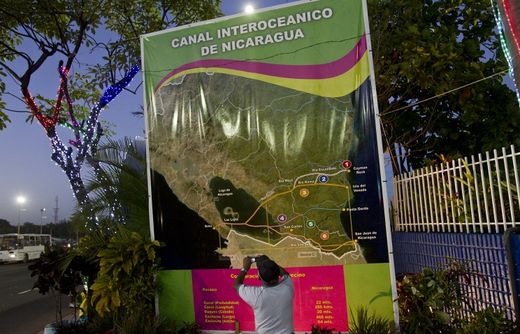 The final mega-project of the grand trans-oceanic waterway Nicaragua Canal, a new alternative to the Panama Canal, which will connect the Pacific coast of Nicaragua with the Caribbean Sea, has been successfully presented in the country's capital and estimated by the authorities at $40 billion.
The company HK Nicaragua Canal Development Investment, which is financing the project, plans to start construction works in December this year, said the company's official representatives on Monday. According to several America's independent sources,
Russia will also join China to help construct the canal.
However, Russia will provide not so much economic and organizational assistance as military and political support, for it will establish a base in Nicaragua to guard the construction site against possible acts of provocation. Moreover, Russian warships and aircrafts will be allowed to be present in the country's territorial waters and coastline.
The canal will enable 5,100 big-tonnage ships from the Atlantic to reach the Pacific coast in 30 hours. The Nicaragua Canal will be 278 kilometers long and from 230 to 520 meters wide, flowing from Brito on the country's Pacific coast to the estuary of the Punta Gorda river. The canal's depth will be reaching up to 30 meters.
Consequently, two deep-sea ports in Brito and Punto Agila, located on the Pacific and the Atlantic coast respectively, will be constructed within the project. They will be thoroughly protected from earthquakes, very frequent in the region. These two ports will enable the transportation of 2.8 billion tonnes of cargo per annum.
A free trade zone, an airport, an oil pipeline, and other facilities are also to be built as part of the project, providing 130,000 Nicaragua citizens with new job places. The project will boost tourism in the country and stimulate the influx of foreign visitors as well.