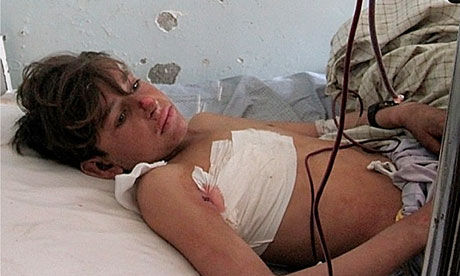 The Senate has quietly stripped a provision from an intelligence bill that would have required
President Obama
to make public each year the number of people killed or injured in targeted killing operations in
Pakistan
and other countries where the United States uses lethal force.
The move highlights the continued resistance inside the government about making these operations, primarily carried out using armed
drones
, more accountable to public scrutiny. In a letter to the Senate earlier this month, James R. Clapper, the director of national intelligence, expressed concern that a public report would undermine the effectiveness of the operations.
The provision, passed by the Senate Intelligence Committee last year as part of its authorization bill, required Mr. Obama to make public an annual report on "the total number of combatants killed or injured during the preceding year by the use of targeted lethal force outside the United States by remotely piloted aircraft." The provision was the same for civilians killed or injured. But officials said that the provision encountered almost immediate resistance both from intelligence officials and Republican lawmakers, some who have fought against any changes to the way the targeted killing program has been managed.
Senator Dianne Feinstein, the California Democrat who leads the Intelligence Committee and who originally offered the provision, agreed to take it out of the authorization bill to enable it to be passed unanimously.
But some sharply criticized the move, saying that lawmakers were avoiding an important debate about transparency in order to swiftly pass the bill.
"Congress is charged with oversight of the administration and this is a matter of life and death," said Steven W. Hawkins, executive director of Amnesty International USA. "
A basic report on the number of people killed shouldn't be too much to ask
."
In a speech last May, Mr. Obama pledged to make drone operations more transparent, and administration officials said that the White House would like to gradually shift drone operations away from the C.I.A. - partly to allow targeted killing operations to be discussed more freely.
But nearly a year later, there has been little movement on the proposals. Some powerful lawmakers, including Ms. Feinstein, have
opposed moving drone strikes out of the C.I.A.
and managed to blunt any momentum to enact the White House proposals.
Mr. Clapper said in a letter that the executive branch was exploring ways to "provide the American people more information about the United States' use of force outside areas of active hostilities."