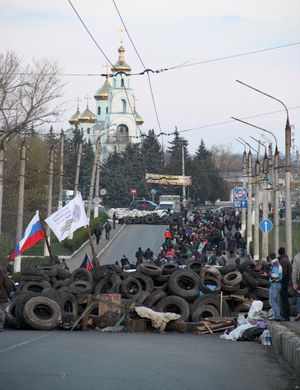 The only bright spot was the release of the OSCE hostages
The last separatist barricade at Kramatorsk was an impressive affair; four giant fuel tankers behind a wall of tyres and stone. The armoured personnel carriers of the government forces, lined up ahead, opened fire without warning; a salvo from a main gun streaking down the street.
The wall disintegrated and burst into flames, the tankers were sliced open as if with a can opener, the severed parts of each one left lying across the road. One round overshot and hit a car, leaving it a smoking heap, another went whizzing by a petrol station. The number of casualties, considering the scale of the damage, was relatively low. There were two dead, the driver of the car and an elderly man still clutching his plastic bag of shopping; around half a dozen were injured, two seriously.
There was an interlude of near silence as people who had thrown themselves to the ground and to the grass verge on the side of the road slowly picked themselves up, glad to be alive, and began to help bloodied figures into cars to be taken to hospital. Those who had thought that the horrific events in Odessa, with more than 40 dead, many of them trapped in a burning building, would lead to a lull in the strife in eastern Ukraine - a pause for reflection - found themselves mistaken.
In Odessa on Friday four people were killed, at least three shot dead, in running battles between Kiev supporters and pro-Russian activists. The clashes ended with separatists holed up in the trade union building. Regional police chief Petro Lutsiuk said more than 130 people had been detained and could face charges ranging from participating in riots to premeditated murder.
The forces of the Kiev administration continued their "anti-terrorist operation" yesterday, with mixed successes but deepening enmity among the many residents who believed themselves to be targeted. Vasyl Krutov, head of a Kiev government's "anti-terrorist centre" behind the operation in the east, told a news conference: "What we are facing... is not just some kind of short-lived uprising, it is in fact a war."
One positive development on a grim Saturday was the release of seven inspectors from the Organization for Security and Co-operation in Europe (OSCE) who had been held by militants for more than a week. Released with them were five Ukrainian officers. There had been apprehension that these men might be kept back as hostages.
The separatists announced that they had carried out the release "without conditions". The statement was repeated by the men's jailer, Vyacheslav Ponomaryov, who had earlier made bellicose conditions for setting them free. The pro-Moscow, self-appointed mayor of Slovyansk had become the centre of attention recently, taking prisoners, accused of being involved in the murder of a local politician, threatening violence to all who opposed the cause. Now, he is a much-reduced figure, his city surrounded by government troops, some fighters openly disparaging his authority.
The OSCE observers were handed over near Donetsk, the capital of the "People's Republic of Donbass". One of them, Colonel Axel Schneider, a German, said he and his colleagues had been treated "as good as possible" in what was a "miserable situation". The Kremlin had sent an envoy, Vladimir Lukin, to negotiate the release. He said he hoped the "voluntary act" by the separatists would be reciprocated by Kiev. "I would very much like the military action to end." But for those on the frontline there was no sign of that .
The village of Andrievka, on the outskirts of Slovyansk, had been the scene of a confrontation between Ukrainian forces and local people on Friday. It went on for hours, sometimes heated but non-violent. Then, just after 8pm, something went terribly wrong. The shooting that followed claimed between seven and 10 lives, from differing accounts, and left around 20 hurt.
How it started remains unclear. According to some, the soldiers began firing into the ground, people were hit by ricochets, stones were thrown in response, direct shots into the crowd ensued. Others claimed one soldier from the airborne brigade shot someone on his own side, a member of the National Guard, possibly by mistake, and panic ensued. The residents insisted that there had been no action from separatist fighters, but this could not be ruled out.
By Saturday morning, the troops and their armour had disappeared from the bridge above a stream that they had taken over. Left behind were spent cartridges, some of it heavy calibre; ground stained by pools of blood; some body parts and one body that had yet to be removed, a man with bullet wounds to his stomach, a coarse blanket half draped over him, lying beside a railway track.
It was the afternoon before the body of Andrei Balotski was identified. "He had come up from Kramatorsk to join us here when we were invaded by the soldiers. He has ended up like this," said Aleksei Viktorovich, 35, who lived near by. "We have contacted his family, but they cannot come because there is shooting in Kramatorsk and they are afraid to leave their homes.
"We don't know what to do with him, it is a hot day and we don't want to leave him here. My house is the nearest, but it would be difficult to take a dead body home with children there. My little boy is very scared by all the gunfire. I don't know how to explain these bad things to him."
It has become the practice among protesters to blame the spate of recent killings on the Right Sector, an ultra-nationalist group accused of carrying out dirty work on behalf of the Kiev administration. The separatist leadership has been keen to disseminate this narrative.
But, looking at the body, Nicolai Alexanderovitch, 30, exclaimed: "Don't talk to me about the Right Sector. The Right Sector didn't kill this man, it was done by the Ukrainian army."
The Kiev administration had repeatedly accused the police service in Donbass of failing to counter the separatists and of often actively colluding with them. There were no police to be seen near Slovyansk or Kramatorsk as the Ukrainian forces faced protesters. I eventually ran into some at a side road, where a checkpoint has become notorious for journalists being taken hostage.
They were, they said yesterday, on their way to provide security to the place where the OSCE observers were being released. In the meantime they had been in deep and friendly conversation with three masked men with Kalashnikovs. "We are just making sure everyone remains calm," explained a sergeant. "These guys are being provoked, they are angry." Who is provoking them? I asked. "The Ukrainian army, of course, the rest of us want none of this bloodshed," the policeman responded.