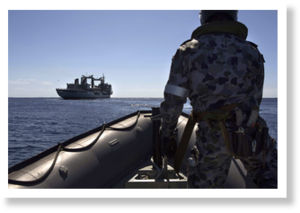 Police say cause of plane's disappearance may never be known as all 227 passengers are cleared of involvement.
Malaysia's top police official has said that authorities may never learn what caused the mysterious disappearance of Flight MH370, while the criminal probe has been narrowed to crew.
Inspector General of Police Khalid Abu Bakar told reporters in Kuala Lumpur on Wednesday that they would need more time, indicating that the three-week-old- criminal investigation has so far been inconclusive.
"At the end of the investigations, we may not even know the real cause. We may not even know the reason for this incident," he said.
He also said all the 227 passengers had been cleared of possible involvement in hijacking, sabotage or having personal or psychological problems that could have been connected to the flight's disappearance on March 8.
Malaysian authorities have still not ruled out mechanical problems as causing the disappearance, but say evidence suggests the plane was deliberately diverted from its scheduled route from Kuala Lumpur to Beijing.
Police are also investigating the cargo and the food served on the plane to eliminate possible poisoning of passengers and crew, Khalid said.
Angus Houston, the head of a joint agency coordinating the multinational search effort out of Australia, said no time frame had been set for the search to end, but that a new approach would be needed if nothing showed up.
"Over time, if we don't find anything on the surface, we're going to have to think about what we do next, because clearly it's vitally important for the families, it's vitally important for the governments involved that we find this airplane,'' he told Australian Broadcasting Corporation radio.
With no other data available indicating where the plane went down, spotting wreckage is key to narrowing down the search area and ultimately finding the plane's flight data recorders, which will provide a wealth of information about the condition the plane was flying under and possibly the communications or sounds in the cockpit.
A multi-nation search for wreckage from the plane is under way in the Indian Ocean after Malaysia said satellite data indicated it may have gone down.
The search now involves at least nine ships and nine planes, covering a search area of 221,000 square kilometres in the Indian Ocean.