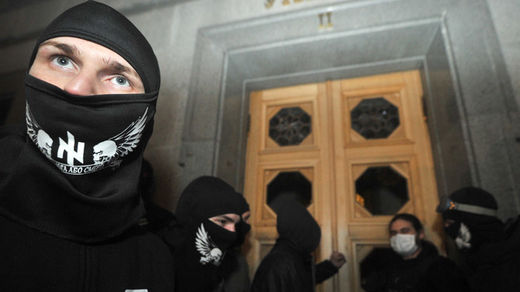 Ukraine's acting interior minister urged the far-right group Right Sector to vacate its HQ in Kiev after a downtown shootout instigated by one of its members injured three, including deputy mayor Bogdan Dubas.
Kiev's 'Dnepr' hotel, which serves as headquarters for the Right Sector movement, has been surrounded by police after members of the group retreated there following a shootout in the center of Ukraine's capital, not far from the landmark Maidan (Independence Square).
Earlier, a Right Sector member opened fire by the 'Mafia' restaurant on the Kreschatyk Street, Interior Minister Arsen Avakov stated on his Facebook page. All of the injured have been transferred to hospital, two of them sustained serious wounds. The suspect has been detained.
Kiev city administration confirmed that deputy mayor Dubas was injured, adding that he just happened to be passing by in the area at the moment of the shootout. The other injured were members of Maidan self-defense force.
Police have been negotiating with the Right Sector at the hotel, urging the members to put down their arms and vacate the premises. Avakov called on members to leave the hotel by morning.
The gunman and a group of his supporters stormed the restaurant and barricaded themselves in one of the rooms. Radicals refused to surrender the attacker.
Before the arrival of the police, heavily armed men from the Right Sector drove up to the restaurant and provided the shooter with passage out of the place and escorted him to the hotel 'Dnepr,' Avakov said.
Earlier, Avakov stated that he was intimidated by the Right Sector with revenge threats. Over 1,500 nationalists from the Right Sector circled the Ukrainian parliament in Kiev threatening to storm it on Thursday if Avakov did not resign.
Avakov stated that he will pursue justice even if it means facing resignation in the future, adding that he will continue the fight.
The Right Sector movement first emerged at the end of November 2013 supporting pro-EU protests on Kiev's Independence Square (Maidan). The movement is headed by Dmitry Yarosh. In March the ultra-nationalist movement decided to become a political party, nominating Yarosh for president.
Russia put Yarosh on an international wanted list and charged him with inciting terrorism after he urged Chechen terrorist leader Doku Umarov to launch attacks on Russia over the Ukrainian conflict. The far-right leader has also threatened to destroy Russian pipelines on Ukrainian territory.
Yarosh has also demanded Avakov's resignation of and the arrest of security officers after a police raid against the gang of notorious radical militant Aleksandr Muzychko resulted in his death.
Right Sector fighters were also active in the violence which triggered the ouster of President Viktor Yanukovich. The group's fighters used clubs, petrol bombs and firearms against Ukrainian police and have been seen wearing neo-fascist insignia.