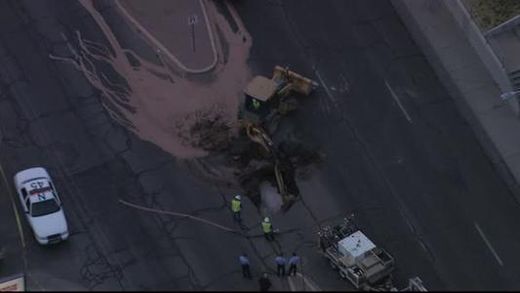 A sinkhole on Central Avenue near UNM has shut the street down in the area.
Crews need to fix a broken water main before the busy street can reopen, and the Water Authority is working tirelessly to get things patched up.
Central is shut down between University on the west, and Yale on the east.
The Water Authority says it will remain that way for at least through Tuesday evening. They hope to have one westbound lane and two eastbound lanes open for Wednesday morning's rush hour.
The Water Authority found out about break earlier Tuesday afternoon. Someone spotted a sinkhole that looked like one big, awful pothole. The water crews quickly discovered that a 10-inch steel water main -- beneath the surface of the road -- gave way. That's when they shut down Central in both directions.
Not long after that, Chopper 4 spotted them digging up a large chunk of the road to begin the repairs. Fortunately, they say the repairs have not affected any customers -- everyone still has water.
They were able to isolate the leak by closing off several valves that are strategically placed in the area. Interestingly, KOB Eyewitness News 4 spoke with a few people who live and work in this area. They say they had a feeling something bad happened below ground days ago.
If you typically use Central to get to work in the morning, do yourself a favor and find a different route.