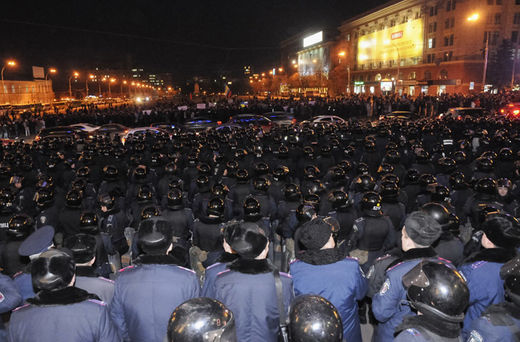 Protests against the self-proclaimed government in Kiev continue in eastern regions of Ukraine. Thousands-strong gatherings in Donetsk and Lugansk are rallying in support of the Russian language and holding a referendum on the federalization of Ukraine.
In Donetsk, the city that once used to be the stronghold of the ousted President Viktor Yanukovich, people are
protesting
against the new governor appointed by Kiev last Sunday.
The appointee is Ukrainian oligarch, billionaire Sergey Taruta, the owner of ISD, one of the biggest mining and smelting companies in the world, he also owns the Donetsk-based Metallurg Football Club.
The oligarch governor failed to come to Donetsk immediately after the appointment, so demonstrators have chosen a "people's governor" of their own, the leader of the 'National levy' Pavel Gubarev advocating setting a referendum that might ask the citizens of Donetsk region about reunification with Russia.
The 'National levy' also started collecting signatures to conduct referendum on allegiance of the region.
During this week the regional administration building in Donetsk changed hands many times, with either the 'National levy' or pro-Kiev forces declaring capture of the authority headquarters.
Several videos allegedly made in downtown Donetsk on March 5 exposed that armed pro-Kiev forces had come to Donetsk, as a group of unidentified men in military outfits and equipped with Russian AK assault rifles and American М4А1 carbines were securing protection of some pro-Kiev activists amidst anti-government popular protests.
Later, Rossiya 1 TV channel made an assumption that these people could be from a group of several hundred mercenaries that allegedly arrived to Kiev recently.
Rossiya 1 1 maintained that mercenaries work for the notorious Academi (formerly known as Blackwater and Xe Services)
, a privately owned American security services provider that employ over 20,000 guns for hire.
But even the appearance of mercenaries in the center of Donetsk did not stop the citizens from protesting against self-proclaimed government in Kiev.
Early Thursday morning a special group of the Security Service of Ukraine (SSU) that arrived from Kiev conducted a hit-and-run operation and arrested Pavel Gubarev on charges of an attempt of power seizure, an exactly the same accusation used by the opposition leader against the self-proclaimed government in Kiev.
According to the 'National levy' webpage on Facebook, Gubarev was convoyed to the capital Kiev. Police also put under arrest several dozens of activists.
The same day, Governor Taruta arrived to Donetsk and held a meeting with region's new police chief also appointed by Kiev.
Yet late at night citizens of Donetsk attempted to storm local headquarters of SSU, demanding to release their leader. They also managed to stop and topple prison truck carrying unknown number of arrested activists.
When top-ranked police and internal troop officers came out to the people, they were heckled with jibes like,
"Do you remember those you're protecting? Those who mistreated you in Kiev?"
reported Komsomolskaya Pravda.
After pondering for some time police opted to free the detained activists which immediately joined the protesters.
A new stage of anti-Kiev rally is appointed for Friday afternoon, maintains the 'National levy' website.
In Lugansk, another regional center in eastern Ukraine, a thousands-strong rally waving Russian flags and chanting "Russia! Ukraine! Belarus! Together!" elected a "people's governor" of their own, the leader of the local 'Lugansk guards' militia, Aleksandr Kharitonov. Members of the guards have already repelled an armed assault force from Kiev that attempted to seize local power institutions in the city on February 20 and currently continue to stand against the attackers from Kiev's Maidan.
Because the local prosecutor's office never bothered to launch a criminal investigation into the attempted power seizure by the armed militants from Kiev, the citizens of Lugansk now put their trust in vigilante groups rather than police
.
All attempts to gather in Lugansk a significant nationalist rally similar to Maidan in Kiev have failed, largely because they looked increasingly pale in comparison with massive anti-government demonstration rallying in the center of the city.
In other regional centers of Ukraine, such as country's second-largest city of Kharkov, anti-government protests were of a much smaller scale, perhaps also due to the heavy presence of the riot police at rally sites.