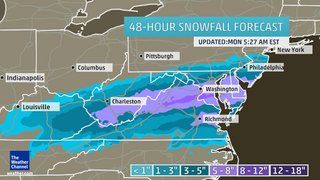 Thunder and lightning with snow, sleet and/or freezing rain reported in at least eight states
Snow pushes through Middle Atlantic and Central Appalachians into Monday afternoon, tapering off by evening.
5+ inches of snow in Washington; 1 to 3 inches in Philadelphia; Little to no accumulation in New York City.
Winter Storm Titan will deliver its final round of winter weather to parts of the East on Monday.
Here are the latest forecast details.
48-Hour Snow Forecast Power Outage Potential Monday AM Forecast Monday PM Forecast Snow, Ice Impacts
Monday: Snow tapers off in the Ohio Valley and much of Pennsylvania, New Jersey, and the New York City area during the morning, but should linger in the central Appalachians and Mid-Atlantic (West Virginia, northern Virginia, Maryland, Delaware) much of the day. The precipitation will be moving east, but the rain/ice line and ice/snow line will sag south during the day as cold air bleeds south. As a result, much of North Carolina goes from morning rain to afternoon freezing rain or sleet; in southern Virginia, the transition goes from early morning rain to late morning wintry mix and afternoon snow in many areas.

How Much Snow? Five inches of snow or more is possible for far southern New Jersey, Delaware, southern Maryland, central and northern Virginia, the District of Columbia and West Virginia. Within this swath, a few spots could see up to one foot of total snow through late Monday afternoon. Snow amounts will taper greatly farther to the north, with only light snow showers expected in the New York City area and no significant accumulations in Boston. Accumulating snow and sleet, albeit not as heavy, is also expected as far south as northern North Carolina.
How Much Ice? Some additional light ice accumulations from parts of northeast Tennessee and southeast Kentucky to southern Virginia and northern North Carolina.
East travel impact: Road conditions will continue to be hazardous in areas where snow, sleet and freezing rain fell Sunday into Sunday night. Conditions will deteriorate in parts of the MIddle Atlantic on Monday. Major impact on Northeast airport hubs with numerous cancelations/delays likely Monday.