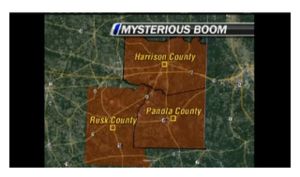 East Texas - A lot of East Texans are wanting answers Wednesday after a mysterious blast was heard over three counties.
Just after 10 p.m. Tuesday night, reports began to come into the
KLTV 7 newsroom
from Rusk, Harrison and Panola Counties of a monstrous blast that shook the ground and shot flames into the night sky.
"It was a big boom," says one Tatum resident.
"It felt as if it was a small scale earthquake," said another.
"An explosion and a big bright light," said another.
From Hallsville to Longview to Tatum, East Texans say they heard a huge explosion, then the ground began to shake.
"I thought it was thunder but it did not sound like thunder. It was a big loud boom, like it was an explosion," says Tatum resident Arely Ramos.
Many discounted a transformer blowing.
"It wasn't a transformer or Eastman flare thing going off, because we're used to hearing that. It literally shook our house. Shook it pretty hard, enough to startle all of us," says Hallsville homeowner Danielle Walker.
KLTV 7 reached out to Eastman Chemical, who said they did not have any explosions last night.
Those who saw it, won't soon forget it.
"Before I felt anything, I saw this aura, this blue and purple aura in the sky and then my car shook as I was driving. It looked 200-250 feet in the air," says Jeremy Healy.
But what it was remains a bit of a mystery. There has been no report of any industrial accident or blowout to any authority.
"We kept hearing rumbling, off and on like just a really loud rumbling noise," Walker says.
Some questioned weather it may have been the Luminant Martin lake power plant near Tatum, but plant personnel said they weren't aware of anything like this.
There were no incidents that caused a noise or light.
Now people want to know what they heard ans saw.
"You think thoughts of, 'What was that? Was that an attack of some sort,'" says Walker.
Local law enforcement and fire departments in the area say there were no reports of any incidents that may have caused the mysterious boom.