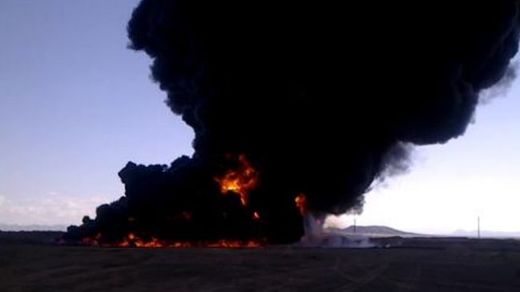 Armed tribesmen in Yemen have bombed a major oil pipeline in the central province of Ma'arib, halting the flow of oil, officials said.
The attack took place on Saturday in the Serwah district, oil and local officials noted.
The blast caused a huge blaze that led to the closure of the pipeline and stopped the oil flow from Ma'arib fields to the Ras Isa oil terminal on the Red Sea.
The pipeline was also attacked in the Wadi Obaida area on December 26 and was repaired on January 5.
Furthermore, on December 20, the pipeline was bombed shortly after the facility was repaired.
Officials earlier said tribesmen carry out such attacks in order to pressure the government to create jobs, release their relatives from prison and settle land disputes.
Over the past two years, oil and gas pipelines in Yemen have come under repeated attacks, which have resulted in fuel shortages and slashed export earnings.
Yemen, an impoverished but oil-rich country, depends on energy exports for some 70 percent of government spending.
According to Oil Minister Ahmad Dares, sabotage has cost the country USD 4.75 billion between March 2011 and March 2013.