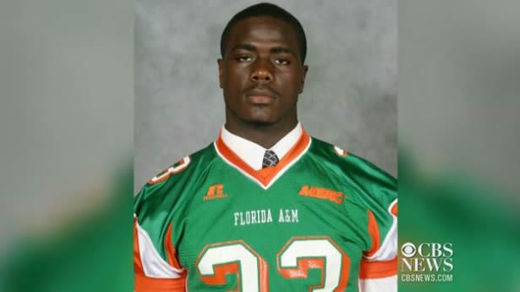 Prosecutors will
submit involuntary manslaughter charges
against a North Carolina police officer who shot a former college football player after he crashed his car.
A Mecklenburg County grand jury declined to indict Charlotte-Mecklenburg Police Officer Randall Kerrick on Tuesday on voluntary manslaughter charges in the
Sept. 14 shooting death
of 24-year-old Jonathan Ferrell.
Kerrick fired his service weapon 12 times and struck Ferrell 10 times
, investigators said, killing him.
WBTV-TV reported that grand jurors asked prosecutors for a lesser charge than voluntary manslaughter, and the state attorney general's office said it would submit the new charge to a full grand jury.
"In the interest of justice, we will resubmit this case to the grand jury scheduled to meet Monday, Jan. 27, to seek an indictment for voluntary manslaughter, the most appropriate charge given the facts in the case," said Attorney General Roy Cooper.
Ferrell's family said in a statement they were pleased the case would be resubmitted, but with reservations.
"While we are pleased that the Attorney General is going to resubmit the charges against Randall Kerrick to a new Grand Jury on Monday, we are skeptical given their inability to secure an indictment yesterday," the statement said. "Jonathan Ferrell was a quality human being who worked hard and cared for those around him. He deserved better."
But many - including Ferrell's family - were puzzled and outraged by the announcement that the indictment had been declined.
"This is one of the most despicable decisions I have ever seen made by human beings," said Kojo Nantambu, president of the Charlotte branch of the National Association for the Advancement of Colored People.
A police spokesman said Kerrick will remain suspended without pay until the case is resolved.
A court official said grand jurors typically hear only witness testimony, which would appear to rule out their viewing of a dashboard camera video recorded during the incident.
That video has not been made public, but Kerrick's attorney said it shows Ferrell never put his hands up after he crashed his car into a tree and sought help from a nearby house.
The homeowner called police, fearing the former Florida A&M football player intended to break in.
"The officers gave several verbal commands to 'get on the ground, get on the ground', at least three commands," said attorney George Laughrun. "He continued approaching the officers, advancing toward them."
The official said two grand jury panels are selected to sit for three- to six-month terms and alternate weeks when they serve, so Monday's panel will not be the same group that heard the previous case.
Ferrell's family filed a lawsuit last week questioning the hiring and training of police officers and accusing Kerrick of negligence in his use of excessive force.
The family claims they have repeatedly been denied information from the officer's personnel file
.