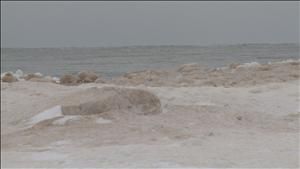 Lake Michigan water levels hit historical lows last year, but this cold winter may be helping in the Great Lakes' recovery.
According to Environment Canada,
the Great Lakes haven't had this much ice so early in the season since the late 1980s.
reat Lakes ice can be a bad thing, especially for shipping: a week before Christmas, a freighter carrying 17,000 tons of coal got stuck on thick ice on Muskegon Lake. This meant Consumers Energy had to cancel its last two coal shipments of the winter.
On the plus side, ice has the benefit of raising water levels in the Great Lakes. Alan Steinman of the Annis Water Resources Institute explains, "When you have more ice formation, you have less direct contact with the atmosphere, less opportunity for evaporation and that keeps the water levels up."
For the last 20 years with lower ice coverage, more water had evaporated, contributing to the low water levels seen last year. "We were setting records for the lowest water level in recorded history," explains Steinman. Another benefit to more ice coverage and less evaporation is less cloud cover and less lake effect snow. In other words, you will see the sun more.
From a historical perspective,
the current ice level is on track to do something we haven't seen in decades: cover most of Lake Michigan
. Looking at a NOAA ice coverage map from January of 1977 it looks a lot like the current ice coverage map today, according to WZZM 13 Chief Meteorologist George Lessens, "1977 was one of the coldest winters on record."
Text