Frigid temperatures across a large swath of the United States this week followed by warmer conditions could aid the spread of a fatal pig disease now in 22 states, affecting hundreds of thousands of pigs, a swine veterinarian said on Thursday.
"The virus likes cold, wet and cloudy days," said Rodney Baker, a swine veterinarian at Iowa State University at Ames, Iowa, the top pork producing state in the United States.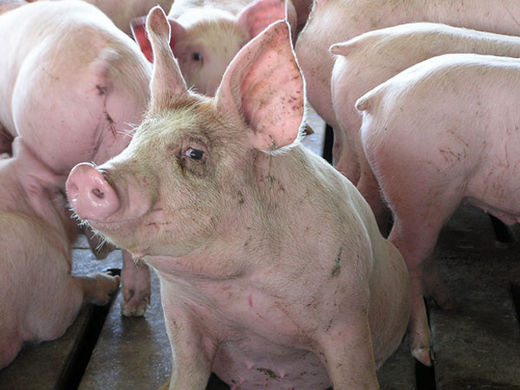 At this time of year the virus gets frozen on clothes and shoes, making it easy to track around and spread, Baker added.
Porcine Epidemic Diarrhea virus (PEDv), which causes diarrhea, vomiting and severe dehydration in hogs, has spread quickly across the U.S. hog belt since its discovery in the United States in April 2013.
California and Wyoming are the latest states to report confirmed cases of the deadly pig virus, bringing the number of states affected to 22, the U.S. Department of Agriculture said on Thursday.
The number of new cases increased by 134 for the week of December 29, bringing total reported cases to 2,084, according to the USDA's National Animal Health Laboratory Network (NAHLN)
U.S. TRUCKING INDUSTRY TARGETED
Earlier this week several hog producing states experienced double digit sub zero temperatures, and forecasters now are calling for warmer temperatures as highs climb toward 30 degrees Fahrenheit by the weekend.
Baker told Reuters the virus can remain viable after a single, maybe even a couple of freeze-thaw cycles. Cold weather and cloudy conditions protect the virus, but heat and sunlight will deactivate it, Baker said.
The spread of the disease has heightened scrutiny of the U.S. trucking industry as livestock transport trailers are seen as a means of transmission.
Trucks need to be washed, disinfected and heated to deactivate PEDv, hog industry health officials have said.
However, if a sprayed disinfectant is not given ample time to activate before the truck is driven in freezing temperatures, the virus will not be killed and can infect the next load of pigs hauled in the trailer, Baker said.
Heating trucks after washing and using disinfectant is the best way to rid them of the virus, but they are not washed frequently due to time and expense constraints, U.S. hog industry veterinarians have said.
It can take at least two hours and costs of upwards of $500 to wash, disinfect and dry a truck properly, Baker said.
Studies done at Iowa State University found temperatures as high as 155 to 160 degrees Fahrenheit for 10 minutes will kill, or deactivate PEDv, Baker said.
The virus, which is transmitted orally and through pig feces, has left the hog industry scrambling to curb its spread and has fueled concerns that hog supplies will fall in the spring and summer.
There are no official figures for pigs lost to the disease but U.S. hog industry analysts estimate one million to four million have died.
Source: Reuters