The deep freeze in the US causes an unusual sight on the shores of Lake Michigan as huge ice boulders wash onto beaches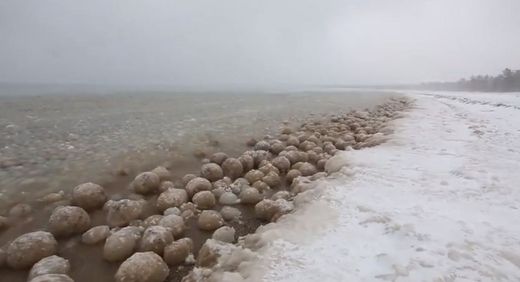 The polar vortex which has gripped North America in sub-zero temperatures has brought with it a natural phenomenon on the shores of Lake Michigan.
Huge, basketball-sized balls of ice have been washing up by the lakeside town of Glen Arbor in Michigan.
Meteorologist Joe Charlevoix explains that they are formed when "the water temperature on the Lake Michigan is just a little bit below freezing, so you get a small piece of ice that forms in the water and as waves move back and forth it adds additional water and freezes in layers.
"It gets bigger and bigger, and eventually you get big balls of ice, that are pushed to the shore by the wind."
Locals call them "ice balls" or "ice boulders" and they are a regular feature of Winter in the Great Lakes.