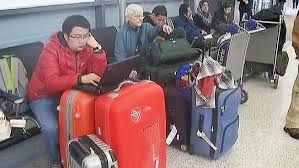 JetBlue has halted flights to and from Boston, New York City and Newark to allow them to get flights back on track.
Beginning at 1 p.m. Monday, JetBlue reduced operations at Boston's Logan Airport, New York's JFK and LaGuardia airports and New Jersey's Newark Airport.
The shutdown affects 300 JetBlue flights at the four airports.
By 5 p.m., all flights were shut down and will remained stopped until 10 a.m. Tuesday.
On Tuesday morning, flights will gradually ramp up again, the company said in a statement.
JetBlue detailed the shutdown on their
company blog.
"We intend to be 100-percent operational by 3 p.m. (Tuesday). This plan allows for 17 hours of rest for our equipment and crew members and time to service aircrafts," JetBlue said in a statement.
JetBlue flights have been severely
delayed or canceled
since Friday due to weather impacts on the East Coast and in the Midwest
as well as new Federal Aviation Administration guidelines about how much rest pilots must now have.
JetBlue is asking travelers to check their flight status online due to heavy volume on their phone lines.
"JetBlue is committed to operating safely; further cancellations are possible. We regret the impact to our customers," the company said.