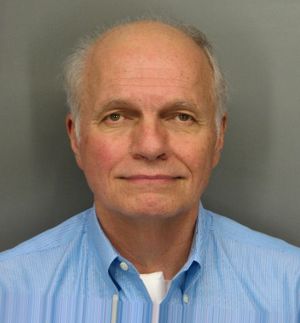 The EPA's highest-paid employee and a leading expert on climate change was sentenced to 32 months in federal prison Wednesday for lying to his bosses and saying he was a CIA spy working in Pakistan so he could avoid doing his real job.
John C. Beale's crimes were "inexplicable" and "unbelievably egregious," said Judge Ellen Huvelle in imposing the sentence in a Washington. D.C. federal court. Beale has also agreed to pay $1.3 million in restitution and forfeiture to the government.
Beale said he was ashamed of his lies about working for the CIA, a ruse that, according to court records, began in 2000 and continued until early this year.
"Why did I do this? Greed - simple greed - and I'm ashamed of that greed," Beale told the court. He also said it was possible that he got a "rush" and a "sense of excitement" by telling people he was worked for the CIA. "It was something like an addiction," he said.
Beale pled guilty in September to bilking the government out of nearly $1 million in salary and other benefits over a decade. He perpetrated his fraud largely by failing to show up at the EPA for months at a time, including one 18-month stretch starting in June 2011 when he did "absolutely no work," as his lawyer acknowledged in a sentencing memo filed last week.
When Huvelle asked Beale what he was doing when he claimed he was working for the CIA, he said, "I spent time exercising. I spent a lot of time working on my house."
He also said he used the time "trying to find ways to fine tune the capitalist system" to discourage companies from damaging the environment. "I spent a lot of time reading on that," said Beale.
Prosecutor Jim Smith said Beale's crimes made him a "poster child for what is wrong with government."
The sentence drew swift reaction from Capitol Hill, including demands from a top Republican for further investigation into the EPA to determine how Beale got away with his fraud for so long.
"The case this morning highlights a massive problem with the EPA," said Sen. David Vitter of Louisiana, ranking Republican on the Senate Environment and Public Works Committee. He said Beale had stolen taxpayer money under the nose of EPA Administrator Gina McCarthy, who for years had been his immediate boss.
Sen. Barbara Boxer (D.-Calif.), chair of the committee, sought to defend McCarthy. "I commend the EPA administrator for taking steps to shine a light on the actions of this rogue employee, and her actions helped uncover his crimes," she said.
Boxer also called Beale's sentence "appropriate given [his] outrageous activities."
EPA inspector general Arthur Elkins, whose office investigated Beale's case, said in a statement Wednesday that his office is "actively looking at the EPA's sloppy internal controls and management actions that enabled Mr. Beale's frauds to occur...Expect to see the results of more audits from us in the coming months."
When he first began looking into Beale's deceptions last February, said EPA Assistant Inspector General Patrick Sullivan, who spearheaded the Beale probe, "I thought, 'Oh my God, How could this possibly have happened in this agency? ... I've worked for the government for 35 years. I've never seen a situation like this."
Until he retired in April after learning he was under federal investigation, Beale, an NYU grad with a masters from Princeton, was earning a salary and bonuses of $206,000 a year, making him the highest paid official at the EPA. He earned more money than the agency's administrator, Gina McCarthy, according to agency documents.
Even at that point, prosecutors say, Beale sought to "cover his tracks.'" He told a few close colleagues at EPA that he would plead guilty "to take one for the team," suggesting that he was willing to go to jail to protect people at the CIA.
John Kern, Beale's lawyer, declined to comment to NBC News. In a pre-sentencing memo, he had acknowledged his client's guilt, but had asked for leniency and offered a psychological explanation for the climate expert's bizarre tales.
"With the help of his therapist," wrote Kern, "Mr. Beale has come to recognize that, beyond the motive of greed, his theft and deception were animated by a highly self-destructive and dysfunctional need to engage in excessively reckless, risky behavior." Kern also said Beale was driven "to manipulate those around him through the fabrication of grandiose narratives ... that are fueled by his insecurities."
Two congressional committees are now pressing the EPA, including administrator McCarthy, for answers on the handling of Beale's case. Two new inspector general's reports fault the agency for a lack of internal controls and policies that allegedly facilitated Beale's deceptions.
For example, one of the reports states, Beale took 33 airplane trips between 2003 and 2011, costing the government $266,190. On 70 percent of those, he traveled first class and stayed at high end hotels, charging more than twice the government's allowed per diem limit. But his expense vouchers were routinely approved by another EPA official, a colleague of Beale's, whose conduct is now being reviewed by the inspector general, according to congressional investigators briefed on the report.
Beale was caught when he "retired" very publicly but kept drawing his large salary for another year and a half. Top EPA officials, including McCarthy, attended a September 2011 retirement party for Beale and two colleagues aboard a Potomac yacht. Six months later, McCarthy learned he was still on the payroll
In a March 29, 2012 email, she wrote, "I thought he had already retired. She then initiated a review that was forwarded to the EPA general counsel's office. But the inspector general's office was not alerted until February 2013 and he didn't actually retire until April.
In a statement to NBC News, Alisha Johnson, McCarthy's press secretary, said that Beale's fraud was "uncovered" by McCarthy while she was head of the Office of Air and Radiation. "[Beale] is a convicted felon who went to great lengths to deceive and defraud the U.S. government over the span of more than a decade," said Johnson. "EPA has worked in coordination with its inspector general and the U.S. Attorney's office. The Agency has [put] in place additional safeguards to help protect against fraud and abuse related to employee time and attendance, including strengthening supervisory controls of time and attendance, improved review of employee travel and a tightened retention incentive processes."