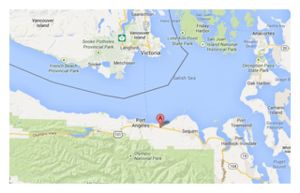 The rumbling of stomachs eager to take in a Thanksgiving meal last week didn't seem to be the only such noises heard across the central part of the North Olympic Peninsula.
Residents between Port Angeles and Sequim reported hearing low, sustained rumblings and in some instances loud booms from Tuesday to Thursday last week.
At least 15 people posted comments to the Peninsula Daily News' Facebook page describing the sounds, which some say have been heard up and down the Strait of Juan de Fuca for months, if not longer.
"Yeah, it's kind of strange,"said John Robinson, who lives off Finn Hall Road along the Strait between Port Angeles and Sequim.
"Everybody around here hears it. It rattles windows."
Robinson said Friday neither he nor his family members ever see any ships in the Strait nor planes overhead accompanying the rumbling sounds, which he described as being heard "just about every day" last week.
"If you've never heard it before, it almost sounds like a big ship maybe reversing propeller," Robinson said.
Others living in the Graysmarsh area of Sequim and up on Black Diamond Road also reported the rumblings Tuesday and Wednesday night.
"It's just another peculiarity of the North Olympic Peninsula," one person wrote on the PDN's Facebook page.
A Diamond Point resident said that people in that area hear "this all the time."
Mike Welding, public affairs officer at Naval Air Station Whidbey Island, said Navy jets were practicing all last week, except on Thanksgiving, and for most of November at the station's Ault Field, just north of Oak Harbor and about 60 miles east of Port Angeles.
"I can't say definitely that that's what they heard," Welding said.
"All I can do is confirm that we've been having operations."
EA0-6B Prowlers and EA-18G Growlers pilots practicing day and night for aircraft carrier landings at the air station might sound like rumbling, though Welding said no aircraft flying to and from the station would produce booms.
"We aren't doing anything you could really characterize as a loud boom," Welding said.
"That's not characteristic of normal aircraft operations."
Welding said questions from the PDN about rumblings in the area came not too long after similar inquiries from a news website on Orcas Island.
"I can tell you that over [on] Orcas Island, they were hearing rumbling in the distance, and we were doing operations at that time," Welding said.
Lt. Paul Pendergast, public affairs officer for Canada's Maritime Forces Pacific based at the Canadian Forces Base in Esquimalt, B.C., said no Canadian naval ships were practicing firing on any of the base's test ranges.
Once such range is in the Strait of Juan de Fuca area, he added.
"The ranges were not active this week at all," Pendergast said.
Robinson said the sounds he's heard have not been booms and have not sounded like aircraft.
"It doesn't sound like jet aircraft to me," Robinson said.
"I've heard a lot of jet aircraft, and that's not the way I would describe it."
Last week was just one in a long list of multiple reports of mysterious booms or rumblings in the central part of the Peninsula.
Rumblings earlier in August were thought to be Navy jets at Whidbey Island, while booms heard along the Dungeness River in April 2012 were attributed to a propane cannon set up to protect newly planted fields from birds.
"We have not pulled [the cannon] out to use [on] Thanksgiving or anytime recently," said Patty McManus, co-owner of Nash's Organic Produce in Sequim.
"No, it wasn't us."
A series of booms around Port Angeles in 1982 was blamed on naval exercises in the Strait.
Unexplained booms were reported in Port Angeles in 2006 and 2007. Booms were heard in Dungeness, with houses shaken and a report of at least one broken window.
In 2009, Port Angeles was again shaken by unexplained booms.
In 2011, reported booms were determined to have been thunder.