I've been shooting photos for 20 years. I've made my living in the profession for the last 15. I can count on one hand the number of times that everything lined up perfectly and a truly rare image was created. Now, I don't want to toot my own horn about this shot, but the fact that, during a 30 second exposure, after a 10 second timer (during which I hopped down from the roof of my truck where the camera was on a tripod, and joined the scene by the fire), a
meteor
(or so they tell us) would enter the sky EXACTLY in the corner of the frame and explode in the very part of the frame that needed balance, just as I had finally worked out the correct exposure and lighting to match the foreground with the night sky, is beyond rare. It's a non-chance. There is no way to plan for something like this. No way to even hope for it.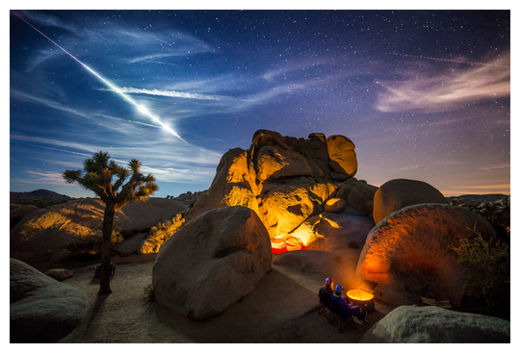 But lest you get the impression that I'm subscribing to a lifestyle of reliance on freakish luck, there is a deeper game at play here. Namely this: If you shoot enough arrows, eventually you'll pull a Robin Hood and split the arrow that was already a bulls-eye. When I took this shot, it was the final day of my project shooting fall landscapes in the American West. Five weeks previous, I had left Seattle in my truck with no mission beyond creating and sharing beautiful photography as I chased good weather almost all the way to the Mexican border. Every morning, I was up shooting the sunrise.
Every night, I was posted up somewhere scenic to shoot the close of another day in the great outdoors. From the Olympic rain forest to the Tetons, Yosemite to Zion, I was on an epic hunt. And, to be perfectly honest with you, toward the end of the trip, despite the thousands of images taken, and the extremely enthusiastic feedback from the world at large, I was disappointed that I hadn't captured a single transcendent image; an image that would make me want to burn my camera, a la Jimmy Hendrix.
Nonetheless, I needed a closing shot for the project. A shot that said, 'thanks for joining me on this journey, and here's to living the good life under nature's roof'. So there I was, on the last night in the field, going through the motions. Legitimately not inspired, but professionally committed. Apologies to the idealists out there, but after a month of shooting the evening sky, you just plain get a little bit numb. But you've got to respect the process and do the work. Find a cool campsite, get a photogenic camp and fire setup, tweak the fire and tent to match the brightness of the stars, shoot a test image, make adjustments, shoot an image, another round of tweaks, shoot a photo, that looks pretty good, how about another for good measure, and WHAMMY!
My pal Hayden was the other guy at the campfire. His favorite part of the story? My response after I had climbed back up on the roof of the truck to review the image that I was hoping beyond hope I had captured. In my head: Exposure? Check. Focus? Check. EXPLODING METEOR? CHECK! And verbally (very quietly):
"I'm done."
And those of you who know how the mind of an artist works, being done is a rare and beautiful thing.