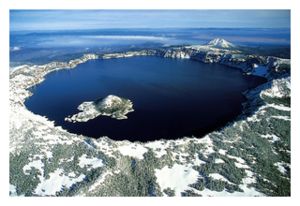 Crater Lake - Crater Lake received a record-smashing 8 inches of snow in 24 hours Tuesday into Wednesday, the National Weather Service reported.
More than one month ahead of schedule, the frosty blanket made its earliest appearance since 1986, when snow fell a week earlier on Sept. 18. Before that, the earliest appearance of a winter wonderland at Crater Lake was Sept. 24, 1948.
"It looks like there were sharply higher values of snowfall above 6,000 feet," said meteorologist Shad Keene. "Crater Lake tends to get the brunt of all the precipitation, so the chance of them exceeding a forecast is higher than in most places. It'll really come down."
At elevations 6,000 feet and below, there was anywhere from 1 to 3 inches. "The higher elevations definitely got more than we expected," Keene said.
The snowfall resulted in the closures of Crater Lake's West Rim Drive, East Rim Drive, North Entrance and Pinnacles Road Wednesday, according to the park's website. The West Entrance and South Entrance off Highway 62, Highway 62's access to the park's headquarters, and park headquarters to the Rim Village remained open.
"It looks like winter," said Marcia McCabe, park spokeswoman. "It's gorgeous. It's absolutely beautiful."
McCabe added that the road closures should be temporary, as temperatures are expected to warm up by the end of the week.
"We're not quite ready to shut them down for a whole season," McCabe said.
Keene said it is surprising to see snow accumulate on the roads, though much of it has since begun to melt.
"The ground is still relatively warm," Keene said. "Just seeing the snow accumulate on the roads was surprising that high in our area."
Snow is expected to continue falling at elevations 5,000 feet and above into as late as today.
"You could certainly see several (more) inches," Keene said.
That means some more rainfall for the Rogue Valley today and possibly early Friday, but a sunny weekend is predicted to reverse the trend, with temperatures rising back into the low- to mid-70s for the valley floor, and the low 50s for Crater Lake.