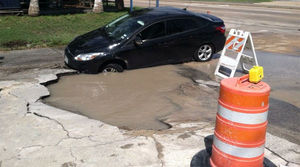 Houston - A big sinkhole was swallowing cars near the intersection of Richmond and Fountainview in the Galleria Area Monday.
Some drivers mistook the eight-foot-deep hole for a large puddle of water and drove right into it.
Ashley Johnson's 2013 Ford was no match for the sinkhole and one of her wheels got stuck.
"There is a big hole right here. I don't know where this came from," Johnson said.
She was one of the lucky ones because another foot to the left and her car would have sunk.
Brian Muller hit the hole Monday morning before the city put up orange warning cones and barrels.
"I tried to go around the side of it and my car fell in the hole," Muller said. "The water was going over the hole so I did not even know that there was a hole there."
Workers at the restaurant construction site next door pulled Muller's car out. They noticed a big pothole there last Thursday and said they called the city to report it. No one responded.
The weekend downpours then turned the pothole into a sinkhole.
The Public Works Department confirmed it received a phone call about a water main break in the area on Saturday.
Around 1 p.m. Monday, city crews finally closed one lane at the intersection to begin repairs.
They came too late for Muller and Johnson.
"I'm a little more shocked than mad right now. I am mad that my car is, like, probably totaled," Johnson said.