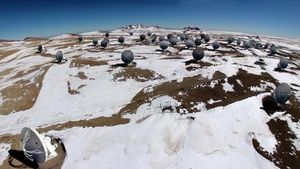 Santiago - A rare snowfall in Chile's Atacama desert has delighted visitors to one of the world's driest areas.
Residents of San Pedro de Atacama say the weekend snow was the heaviest in three decades for the desert city, which is 750 miles (1,200 kilometers) north of the capital, Santiago.
But local officials say they are concerned the snow and rain that fell over the weekend could cause some rivers to flood as has happened in the past.
The national tourism office says the road to San Pedro de Atacama was temporarily blocked due to the unusual weather. Officials have not ordered any evacuation although they expect more rain in the area.