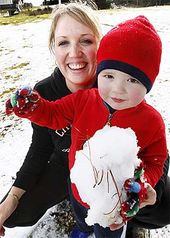 Skiers rejoice as chill hits
Hobart woke to its coldest August morning in 41 years yesterday when the temperature dropped to -0.4C.
Hobart was one of the coldest places in Tasmania, but the freezing temperatures were widespread -- Launceston fell to -2.5C and Liawenee -7.6C.
And while the icy start made life miserable for many, skiers rejoiced.
"It's absolutely fantastic, the best cover we've had for years," Felicity Foot, operator of ski equipment hire firm Ben Lomond Snow Sports, said of the snow.
Ms Foot said the snow fields were further enhanced by new snow-making and grooming equipment and a new "skateboard park" for snowboarders.
She said 17 of the 30 family groups who hired snowboards and toboggans yesterday had come from Western Australia, Queensland or New South Wales, with one from New Zealand.
Good dumps of snow have fallen around the state and snow is expected again today to 700m.
Skiers are taking full advantage of the fresh snow cover on Mt Field and Ben Lomond, said Hobart ski shop Skigia and Surf assistant manager Tristan Gardner.
"Rentals have definitely picked up in the last couple of weeks because of the good falls on both mountains," Mr Gardner said.
"And the tows are running on both, which is a bit of a rarity for Mt Field."
The cold weather was caused by a series of cold fronts followed by a cold air mass with clear skies and light winds.
Sue Walsh, owner of the Waratah Roadhouse in the state's North-West, said local families who had a habit of snowman building had been busy in the past two days.
She said a generous 12cm snowfall had transformed the town for two days, until rain yesterday washed all the snowmen away.
"It has made the place look very beautiful, like a picture postcard," she said.
Mrs Walsh said Waratah became a magnet for family groups when it snowed.
She said as many as 30 family groups had arrived in the past couple of days to take advantage of the snow.