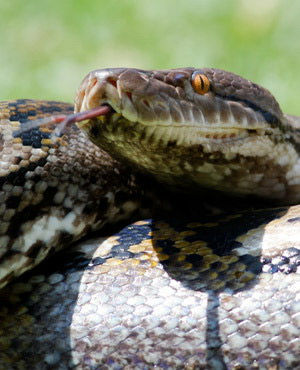 A French post office employee had the fright of her life when a metre-long python slithered quietly out of a parcel and rubbed against her.
The woman was alone in the post office in the village of Blenod-les-Pont-a-Mousson in eastern France, when she felt the chilling caress and screamed for help.
Firemen caught the fugitive reptile and discovered a second one in the parcel. The pair was identified by a vet as ball pythons - non-aggressive snakes that coil up into a tight ball when threatened - and was donated to a nearby zoo.
"They're not dangerous but they're very impressive," an officer said. Ball pythons are popular with snake enthusiasts as pets but are also a protected species for which owners need a legal certificate stating they have not been taken from the wild.
Customs officers raided the home address of the parcel's sender, where they found no certificates but two other snakes, a stuffed caiman and a stuffed turtle which the owner had been trying to sell over the Internet. The post office stressed that its terms and conditions clearly forbade the shipping of animals, live or dead.
Source: Reuters