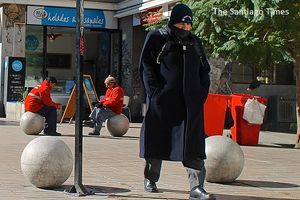 Record low temperatures hit Chile with many parts of Santiago experiencing temperatures below freezing Monday as fresh snow falls in the Andes.
Santiago and other cities were affected by record low temperatures during the past few days, with some areas reaching as low as 16.8 F (-8.4 C) Monday.
The south central area of Chile faced the coldest temperatures of the year on Monday with below-freezing temperatures expected to continue until Tuesday, according to the Chilean Meteorological Office (DMC).
Chilean students received a cold welcome back from their winter vacation as Santiago's lowest temperature of the year came in at 26.6 F (-3 C) in Quinta Normal at 6:56 a.m. Monday morning. Santiago saw a high of 55.4 F (13 C). Just outside of the capital, Lampa claimed the country's record low temperature of the year with shivering lows of 16.8 F (-8.4 C). Calera de Tango in the Valparaíso Region clocked in with a low of 25.5 F (-3.6 C).
Chileans also braved extremely cold weather during the past few days with Longford in the Maule Region experiencing temperatures of 20.5 F (-6.4 C) over the weekend, the lowest in the region. Temuco in the Araucanía Region went as low as 23 F (-5 C), and Coyhaique in Patagonia went down to 20.8 F (-6.2 C).
According to the DMC, lows for the capital should gradually climb above freezing later this week with an expected low of 41 F (5 C) and a high of 66.2 F (19 C) for Thursday.
In the southern Maule Region, freezing weather is expected to continue through Tuesday and Wednesday.
Traffic was restored on Sunday over Paso Los Libertadores, the mountain highway that connects Santiago to Mendoza, Argentina, after it was cleared of snow and ice, according to the Public Works Ministry's Department of Roads. The use of chains on tires is mandatory for all vehicles, and drivers are advised to take precaution.
The National Emergency Office (ONEMI) released Early Preventative Warnings for the Coquimbo Region on Thursday and for the Maule and O'Higgins regions Friday, alerting people of low temperatures and possible morning frost in valleys and foothills.
On the bright side of the bad weather, the Metropolitan Region's Valle Nevado ski resort saw over two feet of new snow over the weekend and 14 out of its 17 lifts remain open despite temperatures of 23 F (-5 C). For further information and updates, visit the ONEMI and DMC websites.