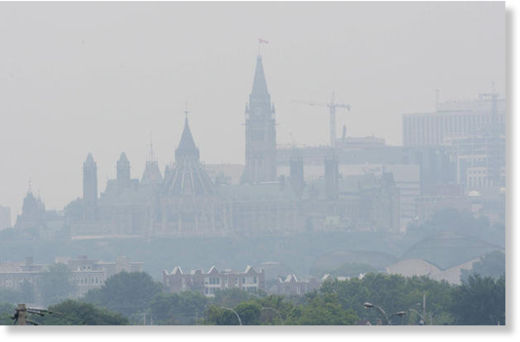 Hazy, smoggy conditions settled down over southern Ontario and southern Quebec Tuesday, caused by forest fires burning in northern Quebec.
A smog warning is in effect for most of southwestern Quebec - from Gatineau to Montreal to Drummondville - and a smog advisory has already been effect for eastern Ontario, which was expanded all the way through Toronto and Hamilton.
Typically, smog warnings and advisories are caused by stagnant weather conditions causing industrial and car pollution to build up and 'cook' into ozone, fine particulate matter and a mix of other pollutants. However, according to
CBC News
, this current advisory is mostly due to smoke that is blowing into the warning areas from an extensive forest fire near James Bay, which has consumed around 250,000 hectares of land so far.
As of 8 p.m. Tuesday, regions from eastern to southwestern Ontario were showing moderate air quality on the
Air Quality Ontario
website, with poor air quality in Brampton, Oshawa and Hamilton. Air quality is
regions around Metro Montreal
are reading as moderate to poor, with the
City of Montreal
reporting Poor air quality.
These weather conditions are expected to stick around for another day, so the smog warnings and advisories should carry on into Wednesday morning. But the smoke should clear out on Wednesday night, making it much easier to breathe in the affected provinces.