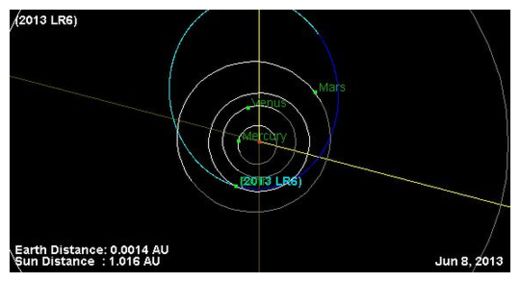 A truck-sized asteroid just discovered yesterday (Thursday, June 6) will give Earth a relatively close shave later today/early tomorrow, depending on your time zone. Asteroid 2013 LR6 is somewhere between 5- 16 meters (16 to 54 feet) in diameter and will be flying by at only about 111,000 kilometers (69,000 mi, 0.29x Lunar Distances) from Earth at 4:43UTC/12:43AM EDT on June 8, 2013.
This is similar in size to the space rock that
exploded over Russia back in February of this year.
The Russian asteroid was about 15 meters (50 feet) in diameter before it exploded in an airburst event about 20-25 km (12-15 miles) above Earth's surface.
Find out how you can watch the flyby live online, below.
This flyby is not at close as February's 2012 DA14 flyby, but it indeed is quite close on by Solar System standards. It will be speeding by 9.8 km a second (6.14 mi/s). The asteroid was first spotted by the Catalina Sky Survey and now several other observatories have made follow-up observations to verify and help determine its size and orbit.
According to the
Minor Planet Center's Twitter feed
,
2013 LR6 is the 167th minor planetary object discovered so far in the month of June 2013!
That is incredible, and as astronomer
Nick Howes said via Twitter,
"That number should give people a good heads up as to why searching is important."
According to our
David Dickinson
, 2013 LR6 will be plunging thru the constellation Vela at closest approach tonight, but it will be a faint one, as it won't break +13 magnitude.
Since this discovery is so new, the Gianluca Masi an the Virtual Telescope Project in Italy has put together a last-minute opportunity to watch the flyby live, online via their telescopes.
The online event is scheduled for June 7, 2013 at 21:30 UTC. To watch, go to the
Virtual Telescope project's webcast page.