Starting last weekend and into the past week, birders in Duluth witnessed one of the most dramatic bird "fallout" events in many years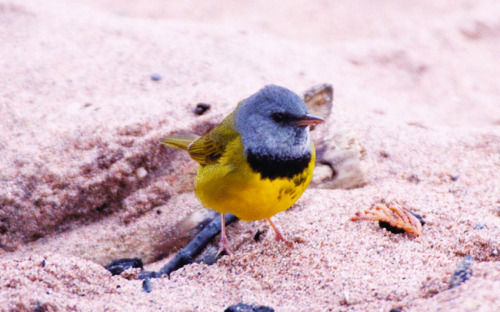 Starting last weekend and into the past week, birders in Duluth witnessed one of the most dramatic bird "fallout" events in many years.
Wind, rain and fog coming off Lake Superior forced migrating warblers and other species to take refuge
on Park Point, where they flocked in trees and on the ground, resting and searching for food.
"It was fantastic," said Duluth birder Mike Hendrickson. "It was one of the best fallouts of migrants in my life, and I've been birding Duluth for 31 years."
It was good for birders, but tough on the birds, Hendrickson noted. He saw one dead warbler, but no other dead birds were reported.
In a message sent on the Minnesota Ornithological Union listserv, Duluth's Peder Svingen wrote that last Sunday, May 19, he and other birders identified 24 warbler species on Park Point. Only two of the 26 warbler species that can be observed in Duluth were missing, and they were later seen by others.
Duluth photographer Michael Furtman documented the fallout at Park Point in photos.
"It isn't great photography or viewing weather," Furtman said, "but you have the opportunity to see hundreds and hundreds of warblers in an hour. Some trees down there looked like Christmas trees, there were so many warblers in them."
Many warblers are bright yellow, some accented in orange, many with distinctive bars or stripes.
Larry and Jan Kraemer of Duluth, who lead morning warbler walks for the Duluth Audubon Society, were with Svingen and Hendrickson last Sunday on Park Point. They watched warblers from the city bus turn-around near 43rd Street on Minnesota Avenue.
"We stood there for three hours, and they were flying over like we've never seen before, a steady stream for three hours," Larry Kraemer said. "Black-throated blue warblers usually are hard to see, and at one point I had two males and a female in my binoculars at one time."
Fallouts occur at Park Point in most years at some point in the spring migration. Many warblers follow the lakeshore. They feed on insects, and some of the first insects hatch along the edges of water, Furtman said. Typically, they would be high in the treetops, but when foul weather descends on Duluth, the birds seek shelter closer to the ground.
In this fallout, some warblers were observed on the beach side of Park Point, a place they typically wouldn't be seen.

"Despite the strong offshore winds, hundreds (perhaps thousands) of warblers were desperately trying to find food and shelter among the grasses and small shrubs along the dunes.
..." Svingen wrote. "Most surprising to us were the Blackburnian and blackpoll warblers (species normally seen foraging in trees above eye level)."
With the clearing weather later in the week, the birds could resume their normal feeding activities and continue their migration.