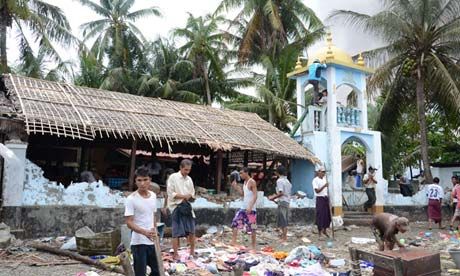 Many feared drowned as boat carrying Rohingya Muslims hits rocks during evacuation ahead of cyclone Mahasen
A boat carrying about 100 Rohingya Muslims has capsized off western
Burma
with many feared drowned at the start of a mass evacuation from low-lying regions ahead of cyclone Mahasen, a UN official said on Tuesday.
The boat struck rocks off Pauktaw township in Rakhine state and sank late on Monday, Barbara Manzi, head of the Burma office at the UN Office for the Co-ordination of Humanitarian Affairs (OCHA), told Reuters.
She said an unknown number of people were missing.
The UN warned last week that the tropical cyclone could bring "life-threatening conditions" to thousands of people living in camps in the west of Burma after their homes were destroyed in violence between majority Buddhists and minority Muslims last year.
"The possibility of the cyclone hitting has added a real urgency to our plans," said Vivian Tan, a spokeswoman for the UN refugee agency. "We're building temporary shelters made out of bamboo, which will hopefully stand the heavy rains, but with a cyclone, you just don't know what will hold up."
Evacuations began on Monday in some areas such as Pauktaw, a port town about 17 miles (27km) by sea from the Rakhine state capital, Sittwe.
Nearly 20,000 Rohingya were living in makeshift camps in Pauktaw after last year's violence, including about 12,000 in flood-prone areas, according to UN data.
At least 192 people were killed in June and October last year in violence in Rakhine state between ethnic Rakhine Buddhists and mostly stateless Rohingya Muslims who are denied citizenship by the Burmese government and considered by many in the country to be immigrants from Bangladesh.
Hundreds of Rohingya homes were destroyed in Pauktaw in October. Aid agencies say heavy rain and mudslides could bring difficult conditions to about 140,000 displaced people across Rakhine state, mostly Rohingya. Up to 45,000 displaced people living in low-lying areas in Sittwe have been identified as the most vulnerable to cyclone Mahasen. Some have begun to be moved to higher ground.
Projections by Tropical Storm Risk, a venture led by the Benfield Hazard Research Centre at University College London, showed Mahasen could become a "severe cyclonic storm" and reach landfall in northern neighbour Bangladesh later this week.
In 2008, a cyclone swept across the Irrawaddy Delta, south of the former capital, Rangoon, killing up to 140,000 people.
Burma is a predominantly Buddhist country but about 5% of its 60 million people are Muslims. They face a growing anti-Muslim campaign led by radical Buddhist monks.