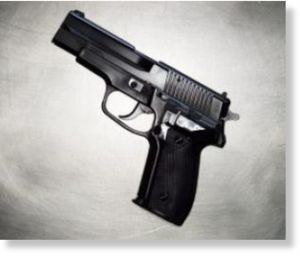 A 3-year-old girl accidentally shot her 10-month-old infant sibling in the side of the face this week in Middleton, Idaho (video below).
According to Canyon County Sheriff Kieran Donahue, an unidentified mother left her two children in the car while she went into the house.
The 3-year-old girl found a loaded pistol in the car and shot her brother in the left cheek. He was treated at St. Luke's Boise Medical Center in Boise, Idaho,
reports
KOBI-TV.
"Those kids were in the car, which may not have been bad in itself except there was a loaded firearm in the car and unfortunately, children being children, found access to it and discharged it," Donahue
told
KTVB-TV. "The bottom line is the two children were unattended in the car."
"The most important thing is gun safety. If you're going to have a loaded firearm in the car, you're going to have to have it in a place where no one but yourself or an adult that knows about guns can access it."
While no charges have been filed against the parents yet, the Child Protection Act states that a parent could lose their child if they fail to properly take care of them. As far as a gun in the car, people in Idaho have the right to carry guns in their vehicles with a permit.