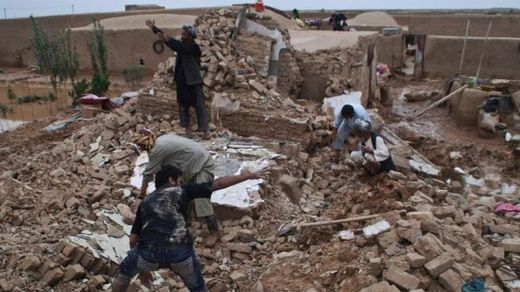 The death toll from the latest devastating floods in northern Afghan following heavy rains in the area has climbed to 20 people, local officials say.
Zabihullah Akhtari, an official at Balkh governor's office, said on Thursday that nearly 2,000 households have been affected in the provincial capital Mazar-i-Sharif - located over 300 kilometers (186 miles) northwest of Kabul - and three nearby towns.
He added that eight people were killed in Sholgara district, seven in Kishindih, four in Charkint and one in Mazar-i-Sharif.
Akhtari further highlighted that teams have been dispatched to the flood-stricken areas to assess losses.
"All of our livestock and homes were destroyed," Ghulam Sakhi, a resident of a village in Sholgara district, said. "The flooding was so strong we couldn't do anything."
Meanwhile, Sholgara district chief, Maulvi Sirajuddin Abid, said some 1,300 homes have been affected as a result of the deluges. He noted that estimates show about 2,500 acres of agricultural land have been inundated.
The UN has reported that flooding has closed major roads in Balkh province.
On Wednesday morning, heavy rains caused similar flash floods in the neighbouring Sari Pul , damaging more than 100 homes.
Northern Afghanistan has experienced an unusually wet winter, with heavy snowfalls and rains.
Many homes in rural Afghanistan are built of mud or stone, and are easily washed away by flooding.
Last spring, a large number of people died of flooding in northern Afghanistan.