Comet could shine brighter than Venus or even the full moon in November

Photographed on April 10, when it was 394 million miles from Earth
The Hubble Space Telescope
has given astronomers their clearest view yet of
Comet ISON,
which experts believe could light up the sky in a breathtaking display later this year.
The image of
Comet C/2012 S1 (ISON)
was photographed on April 10, when the comet was slightly closer than Jupiter's orbit at a distance of 386 million miles from the Sun, and 394 million miles from Earth.
Experts believe it will get dramatically brighter as it swings around the sun in late November, with some claiming the comet could shine brighter than Venus or even the full moon.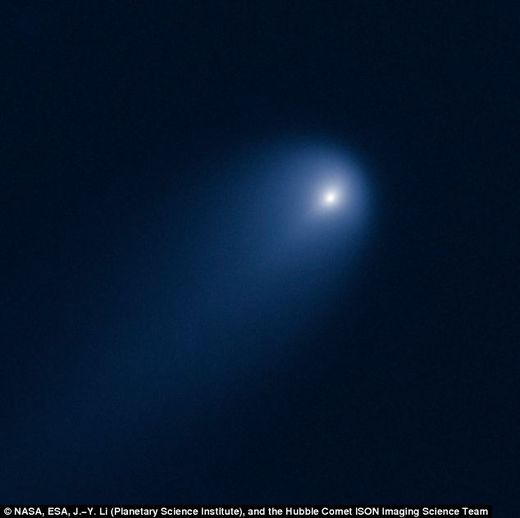 Even at its current distance, the comet is already active as sunlight warms the surface and causes frozen volatiles to sublimate.
Comets become more active as they near the inner solar system, where the Sun's heat evaporates their ices into jets of gases and dust.
A detailed analysis of the dust coma surrounding the solid, icy nucleus reveals a strong jet blasting dust particles off the Sunward-facing side of the comet's nucleus,
Nasa
says.
Like all comets,
ISON
is a 'dirty snowball' a clump of frozen gases mixed with dust, formed in a distant reach of the solar system, traveling on an orbit influenced by the gravitational pull of the Sun and its planets.
ISON's
orbit will bring it closest to the Sun, of 700,000 miles on November 28.
'As a first-time visitor to the inner solar system,
Comet C/ISON
provides astronomers a rare opportunity to study a fresh comet preserved since the formation of the solar system,' said
Planetary Science Institute Research
Scientist Jian-Yang Li, who led a team that imaged the comet.
'The expected high brightness of the comet as it nears the Sun allows for many important measurements that are impossible for most other fresh comets.'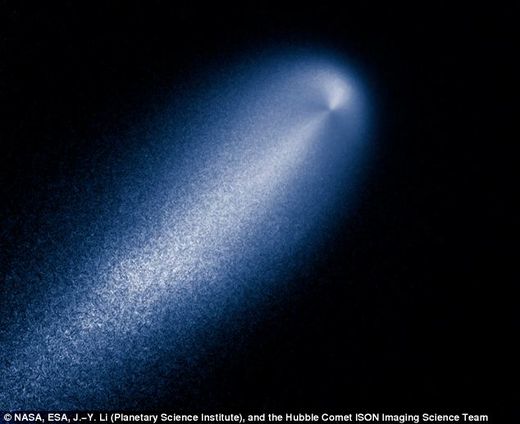 Next week while the Hubble still has the comet in view, the Maryland team will use the space telescope to gather information about
ISON's
gases.
'We want to look for the ratio of the three dominant ices, water, frozen carbon monoxide, and frozen carbon dioxide, or dry ice,' said Maryland astronomy Prof. Michael A'Hearn.
'That can tell us the temperature at which the comet formed, and with that temperature, we can then say where in the solar system it formed.'
Preliminary measurements from the Hubble images suggest that the nucleus of
ISON
is no larger than three or four miles across.
This is remarkably small considering the high level of activity observed in the comet so far, said researchers.
The comet's dusty coma, or head of the comet, is approximately 3,100 miles across, or 1.2 times the width of Australia. A dust tail extends more than 57,000 miles, far beyond Hubble's field of view.