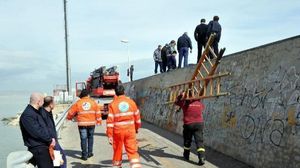 Italian authorities say an elderly Italian couple has committed suicide in a village in the central parts of the country, after being unable to pay their rent.
The bodies of Romeo Dionsi, 62, and Anna Sopranzi, 68, were discovered by neighbors on Friday at their home in Civitanova in the central Marche region on the Adriatic Sea.
After receiving the news, Sopranzi's brother Giuseppe, 73, jumped into the sea from a fishing quay. His body was later discovered by rescuers.
Local authorities said
that there was no question that the suicides were connected to financial problems
.
According to the police, Sopranzi received a meek pension of 500 euros (USD 650) a month, while Dionsi did not receive unemployment insurance or the right to a pension,
due to recently imposed labor reforms by the government
.
It is appeared that the couple had planned their deaths and left a note in front of their garage asking forgiveness for their act.
Mayor Tommaso Corvatta said, "They preferred to disappear rather than ask for help, showing their extreme dignity in a tragic situation."
He also called on the Italian government "not to abandon people".
Corvatta said that
there has been a rise in suicides among the unemployed and small business owners and that the country's financial crisis is to be blamed for the increase
.
"The unemployment rate is unacceptable and it is a tragedy for the whole country and for Europe," said lawmaker with the Northern League party Emanuela Munerato.
Italy started to experience recession after its economy in the third quarter of 2011. Over the past decade, Italy has been the slowest growing economy in the eurozone.
Europe plunged into financial crisis in early 2008. The worsening debt crisis has forced the EU governments to adopt harsh austerity measures, triggering protests against spending cuts in many European countries.