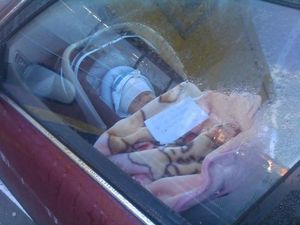 A mother who left her baby alone in a parked car with a note instructing passersby to call 'if I need anything' has attracted anger from around the world, and may face prosecution, too.
A mom sparked outrage
by leaving her newborn baby alone in a car with a note saying: "My mum's in doing the shopping, call her if I need anything."
The message, with the woman's cell phone number, was spotted in a vehicle parked outside a Pak 'n Save supermarket in Porirua, New Zealand, at 9 a.m. on Saturday.
Shocked passersby took pictures of the sleeping baby and posted them on Facebook, prompting a wave of anger from across the world.
The mom would face a $1,600 fine for leaving a child under the age of 14 alone for an unreasonable time if prosecuted.
But cops say they have not been able to trace her as they "don't know who the people are."
A police force spokesman said: "We would launch an investigation if we could but at this stage no one's come forward."