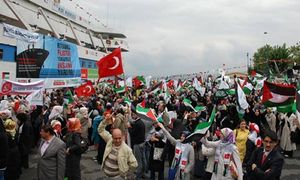 Israel
has apologised to the Turkish government for the deaths of nine people on board the Mavi Marmara, the lead ship in a flotilla attempting to breach the blockade of
Gaza
three years ago, in a move to repair a damaging diplomatic breach between the two countries.
The move, apparently brokered by US president
Barack Obama
during his three-day trip to Israel, has long been resisted by the government in Tel Aviv despite pressure from the international community.
According to White House officials aboard Air Force One, Israeli prime minister
Binyamin Netanyahu
placed a call to his Turkish counterpart Recep Tayyip Erdogan while closeted with Obama in a trailer on the tarmac at Ben Gurion airport in the last minutes before the president's departure for Jordan. Obama joined the call at one point.
The Israeli prime minister's office said Netanyahu "apologised to the Turkish people for any errors that could have led to the loss of life". Erdogan accepted the apology, White House officials said.
This was the "first step" towards normalisation of relations between the two countries, US officials said, and had been the subject of talks between Obama and Netanyahu in Jerusalem this week.
A statement from Netanyahu's office said: "The two men agreed to restore normalisation between Israel and
Turkey
, including the dispatch of ambassadors and the cancellation of legal steps against IDF soldiers.
"Prime Minister Netanyahu ... expressed regret over the deterioration in bilateral relations and noted his commitment to working out the disagreements in order to advance peace and regional stability."
It added: "The prime minister made it clear that the tragic results regarding the Mavi Marmara were unintentional, and that Israel expresses regret over injuries and loss of life. In light of the Israeli investigation into the incident, which pointed out several operational errors, Netanyahu apologised to the Turkish people for any errors that could have led to loss of life and agreed to complete the agreement on compensation."
A statement released in Obama's name on Friday afternoon said: "The
United States
deeply values our close partnerships with both Turkey and Israel, and we attach great importance to the restoration of positive relations between them in order to advance regional peace and security.
"I am hopeful that today's exchange between the two leaders will enable them to engage in deeper cooperation on this and a range of other challenges and opportunities."
The US has been deeply concerned about the deterioration in relations between its two key allies in the region since the flotilla debacle in May 2010. Nine Turkish activists were killed when Israeli commandos boarded the Mavi Marmara in an operation to prevent it and other ships in the flotilla from reaching Gaza. The bloody confrontation was met with a wave of international condemnation, and Israel was forced to ease its stringent blockade of the tiny Palestinian enclave.
Turkey cut all diplomatic ties with Israel following the incident. In Gaza, which has been ruled by the Islamist movement Hamas for almost six years, Turkey was hailed as a champion of Palestinian rights.
A senior US official, briefing journalists on the flight from Tel Aviv to Amman, said brokering the deal become possible after Erdogan backtracked from remarks at a UN forum describing Zionism as a crime against humanity.
In an interview with a Danish paper this week, Erdogan did not retract his words but said they had been misinterpreted.
Netanyahu told Erdgogan "he had seen his interview in a Danish newspaper and that he, Netanyahu, appreciated those comments", the US official said.
Asked if Obama had brokered the deal, the official said: "I think it would be accurate to say the president has been making this point to both leaders for going on a couple years now. So I think it's well known by both Turkey and Israel the importance we place on seeing these two close friends of ours have normalised relations."
He added: "No one is claiming that this resolves every potential different between Israel and Turkey. I think we said, and I think they would tell you, this was an important step because one of the key things that had been dividing them was their strong differences over the Mavi Mara incident and Turkey's desire for an apology and compensation."
Israel will now move ahead on existing plans to pay up to £4m ($6.1m) in compensation to the dead activists' families.
The deal to end the rift allows Obama to claim a significant diplomatic victory from his first trip as president to Israel. While his speech to Israeli students on Thursday was widely praised, he risked accusations that he had achieved nothing of substance. There was no new plan to kickstart the Israeli-Palestinian peace process, little movement on how to deal with Iran's nuclear programme and nothing concrete on Syria.
But the end of the Israeli-Turkish standoff is progress. With so much turmoil and uncertainty in the region, the US wants to be able to count on Turkey and Israel working in tandem.
The rift created problems beyond just the symbolism. Turkey, as a member of Nato, was able to block Israeli participation in proposed multilateral exercises. The US, which backs Turkey's bid for membership of the European Union, sees it as an important player in Syria. Nato helped beef up military defences along the border last year.
Israel's former hardline foreign minister Avigdor Lieberman was a key opponent of Israel issuing an apology to Turkey. Last July, he told reporters: "[The Mavi Marmara mission] was a clear provocation, and it was our right to protect the lives of our soldiers. Frankly speaking, Israel has no reason to apologise."
However, Lieberman is currently out of the Israeli government pending his forthcoming fraud trial. Netanyahu has held the foreign minister's position open for him if he is cleared.
A United Nations report released in September 2011 said that Israel's naval blockade was "a legitimate security measure". It said that Israeli forces had faced "organised and violent resistance" on board the Mavi Marmara, but the use of force by Israel was "excessive and unreasonable". Turkey rejected its conclusions.