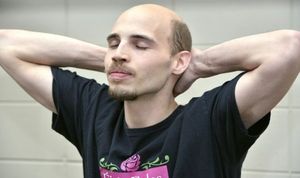 Corey Schink found forgiveness in the form of his late stepfather who appeared to him in a dream.
"My stepdad Jim was a big bear of a man," the Smithland, Iowa, native recalled. "We got into a fight right before he died."
Schink carried that guilt for months, along with feelings of aimlessness in life.
One night, his stepfather appeared in a dream, telling Schink that he would be all right and that all was forgiven.
"It was as if a wave of emotions flooded over me," Schink said. "I don't think I would've gotten to that point without Eiriu Eolas."
An Irish Gaelic term that means "growth of knowledge," Eiriu Eolas (pronounced Aye-Roo Oh-lahs) is a breathing and meditation program which combines modern neuroscience with ancient wisdom.
The attributes of Eiriu Eolas is that it detoxifies one mind and body while liberating one's heart.
Discovering the yoga-influenced meditation on the Internet, Schink credits Eiriu Eolas with turning his life around.
"I wasn't a very happy person before Eiriu Eolas," he admitted. "But within six months, I was able to turn my life around."
Currently, a Briar Cliff University social work major, Schink is also a Eiriu Eolas-certified trainer. He will be teaching the program as part of four-week Western Iowa Tech Community College's Institute for Lifelong Learning, starting in April.
Explaining Eiriu Eolas, he said it's a way for a person to relax from the stresses of everyday life while working through past emotional and psychological trauma.
Through a series of progressive breathing exercises, it will eventually allow a person to release repressed emotions and mental blockages while rejuvenating and detoxifying one's mind and body.
"Eiriu Eolas moves the barriers that stand between you and true peace, happiness," Schink said. "Ultimately, it help you to achieve a successful, fulfilling life."
Since learning the meditation, Schink said he's able to enjoy life to its fullest.
"You know how carefree you felt as a kid?" he asked. "That's how I feel all the time."
This is why Schink said he enjoys teaching Eiriu Eolas to newcomers of all ages.
"No matter your age and fitness level, you can benefit from Eiriu Eolas," he contends. "You're learning how to breath again, beginning with a technique called pipe breathing before graduating to bioenergetic breathing, which allows a person to dig deep into his emotions."
Which is important to Schink, since he's interested in becoming a social worker, counseling at-risk kids.
"Through Eiriu Eolas, I've been able to strengthen my inner voice while silencing my inner critic," he said. "It's taught me to stay connected with my emotions and liberating me from the burdens that were keeping me down."
Schink can't help but smile.
"I am now living the life that I want to live," he said.