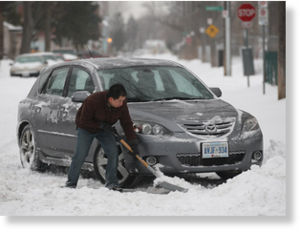 Boston - Heavy snow and strong winds may blow across the Northeastern coast Sunday and drop as much as 10 inches on parts of the region still buried by last week's storm.
A winter storm warning is in effect for the Boston area, where the National Weather Service said 4 to 8 inches of snow could fall by Sunday night. Snow up to 8 inches also is forecast for Cape Cod, Martha's Vineyard and Nantucket.
Strong winds are expected to accompany the snow, gusting up to 55 mph. The weather service said that by evening, temperatures with the wind chill could feel like minus 1.
Early Sunday, New York officials issued a high-wind warning for the Tappan Zee Bridge, reducing the speed limit to 35 mph and prohibiting empty trailers and motorcycles on the bridge. All trucks, trailers, and buses were advised to consider an alternate route.
Farther north, a blizzard watch is in effect for parts of Down East and Northeast Maine, where 10 inches of snow is possible along with wind gusts up to 60 mph. The weather service warned that whiteout conditions are likely with near-zero visibility because of blowing, drifting snow.
The storm isn't expected to be the epic event of last week, which dropped up to 3 feet of snow on some areas and knocked out power to hundreds of thousands of utility customers. Cape Cod, which could be among the heaviest hit, had between 8 and 17 inches of snow from last week's storm.
But officials said the storm will be plenty bad enough at its peak to keep residents indoors.
Boston Mayor Thomas Menino said crews pretreated roads Saturday and plows were working through the night, but travel could still be treacherous on Sunday morning.
''I'm asking residents to use common sense, and stay off the roads while snowfall is heaviest,'' he said.
Providence Mayor Angel Taveras instituted a parking ban starting at 10 p.m. Saturday until further notice to ensure plows have room to clear the snow. Pawtucket, R.I., also banned parking starting at midnight and ending at 6 p.m. Sunday.
Providence can expect 6 to 8 inches, while central Massachusetts and southern New Hampshire could get up to 6.
Source: The Associated Press