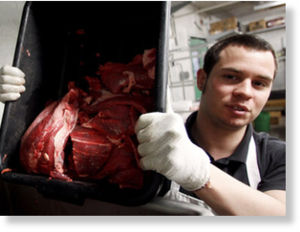 he United States has urged Russia to "honor its obligations" as a WTO member and "restore market access for US meat and meat products immediately." Earlier the Russian food watchdog claimed the ban over additive ractopamine will be long-term.
"The United States is very disappointed that Russia has taken action to suspend all imports of US meat, which is produced to the highest safety standards in the world," US Trade Representative Ron Kirk and US Agriculture Secretary Tom Vilsack said in a joint statement.
Russia's ban on imports of US meat products over the feed additive ractopamine went into effect on Monday. Russia is concerned about the use of the growth stimulant used in US and other countries to make beef, pork and poultry products leaner. Some countries ban the additive out of concern that trace elements could remain in the meat and cause health problems. Russia enacted similar ractopamine requirements for producers Canada, Brazil and Mexico.
In July the UN food safety body, the Codex Alimentarius Commission, said the additive had "no impact on human health" if residue stays within recommended levels.
"Despite repeated US requests to discuss the safety of ractopamine, Russia has refused to engage in any constructive dialogue and instead has simply suspended US meat imports. The United States calls on Russia to restore market access for US meat and meat products immediately and to abide by its obligations as a Member of the World Trade Organization," Vilsack said on Monday.
According to the National Meat Association, in 11 months of 2012 Russia imported 36,340 tons of chilled beef, only 1 percent of which came from the US, and 533.3 tons of frozen beef, 7.7 percent of which was American. Out of the 639.6 tons of pork Russia imported, 21 percent was from the US.