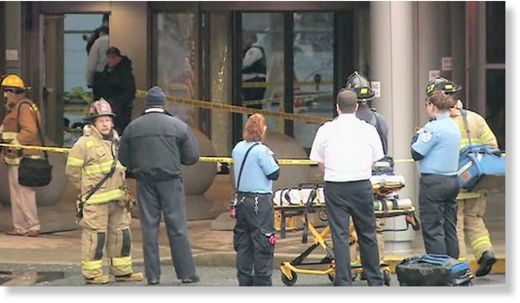 Three people, including the alleged shooter, are dead after gunfire erupted inside a Wilmington courthouse Monday morning.
The shooting happened at 8:00 a.m. in the public lobby of the New Castle County Court of Common Pleas, located at 500 N King Street.
According to Wilmington police, two women were killed in the incident. The alleged shooter, a male, is also dead.
Two officers were also injured in the incident. Police say the officers were shot in an exchange with the gunman. The severity of their injuries is unclear at this time.
Police are still investigating whether the gunman's death was a result of the exchange with officers or whether it was the result of a self inflicted gunshot wound. Police however did say that the gunman never breached the security perimeter beyond the metal detectors inside the courthouse.
The identity of the gunman is not known at this time.
Local and federal authorities responded to the scene. The courthouse was evacuated and officers are conducting an extensive search of the building.
A spokesperson released the following statement on behalf of Delaware Governor Jack Markell:
"Our thoughts and prayers right now are with the victims of this senseless violence and the Capitol Police officers who put their lives on the line to protect the courts and public every day."