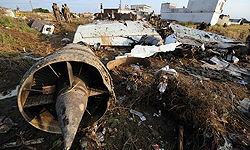 Twenty people died in a plane crash near Almaty in Southwestern Kazakhstan.
A civilian aircraft carrying 15 passengers and five crew members on board has crashed in the Central Asian state on Tuesday.
Media reports said that the passenger jet went down near Almaty, the country's financial capital.
"Twenty people were on board, five crew members and 15 passengers" and all of them died in the incident, Kazakhstan's SCAT airline said in a statement.
"According to preliminary information there are no survivors," it added.
The plane, whose make was not immediately made clear, was flying to Almaty from the northern city of Kokshetau.